DALLAS (FWAA) – Five finalists for the 2010 Bronko Nagurski Trophy were announced on Wednesday by the Football Writers Association of America and the Charlotte Touchdown Club.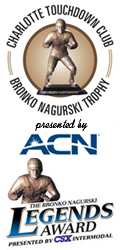 Clemson end Da'Quan Bowers, Auburn tackle Nick Fairley, Georgia linebacker Justin Houston, Boston College linebacker Luke Kuechly and LSU cornerback Patrick Peterson are vying for one of the FWAA's highest honors, its National Defensive Player of the Year award.
The winner will be announced on Dec. 6 and presented the Bronko Nagurski Trophy at a gala banquet at the Westin Hotel in Charlotte, N.C., where Clemson coach Dabo Swinney will be the keynote speaker.
In addition, the FWAA and Charlotte Touchdown Club will present the fourth Bronko Nagurski Legends Award, presented by CSX Intermodal, to Mike McCoy, a standout tackle at Notre Dame and a member of the 1969 FWAA All-America team.
The FWAA's National Defensive Player of the Year Award is named after Bronko Nagurski, who dominated college football at the University of Minnesota as a bruising fullback and defensive tackle from 1927-29. He could have been an All-American at any position, playing 60 minutes as the best player wherever he lined up.
A look at the five 2010 Bronko Nagurski Trophy finalists, as selected by the FWAA All-America Committee:
Da'Quan Bowers, End, Clemson, 6-4, 275, Jr. (Bamberg, S.C): Big-play pass rusher who leads the nation in quarterback sacks with 13.5 through 10 games (1.35 per game). He is second in the country in tackles for loss with 22. Last Saturday, he had nine tackles, one quarterback sack, two tackles for loss and a pass interception in the Tigers' 16-13 loss to Florida State.

Nick Fairley, Tackle, Auburn, 6-5, 298, Jr. (Mobile, Ala.): Dominator in the interior of unbeaten Auburn's defensive line. He ranks eighth in the country in tackles for loss with 18, 1.64 per game for the No. 2-ranked Tigers. He has 47 total tackles, 7.5 sacks, one interception, 18 quarterback hurries and one fumble recovery.

Justin Houston, Linebacker, Georgia, 6-3, 258, Jr. (Statesboro, Ga.): He has posted 47 quarterback hurries and made 50 tackles (29 unassisted). Of that total, 17.5 tackles have been for losses of 79 yards, including 10 sacks for 67 yards. He has two pass breakups and a fumble recovery.

Luke Kuechly, Linebacker, Boston College, 6-3, 235, So. (Cincinnati, Ohio): The sophomore leads the nation in tackles per game with 14.6 (146 tackles - 83 unassisted - in 10 games). He also checks in with two interceptions, three fumble recoveries and nine tackles for loss. He had a career-high 21 tackles in leading the Eagles to a 21-16 win over Duke last Saturday.

Patrick Peterson, Cornerback, LSU 6-1, 222, Jr. (Pompano Beach, Fla.): Perhaps the biggest star on LSU's stellar defense. From his cornerback position, he has made 21 unassisted tackles and seven assisted. He has a half-tackle for loss, two interceptions (46 yards in returns), three passes broken up, five deflections, one quarterback hurry and one blocked kick.
The Charlotte Touchdown Club is a non-profit organization founded in 1990 for the purpose of promoting high school, collegiate, and professional football in the Charlotte, N.C., region. The club's activities and services focus community attention on the outstanding citizenship, scholarship, sportsmanship, and leadership of area athletes and coaches. For more information, contact John Rocco (704-347-2918 or jrocco@touchdownclub.com). The official website of the Charlotte Touchdown Club is www.touchdownclub.com.
The Football Writers Association of America, a non-profit organization founded in 1941, consists of more than 1,200 men and women who cover college football for a living. The membership includes journalists, broadcasters and publicists, as well as key executives in all the areas that involve the game. The FWAA works to govern areas that include gameday operations, major awards and its annual All-America team. For more information about the FWAA and its award programs, contact Steve Richardson at tiger@fwaa.com or 972-713-6198.
The Bronko Nagurski Trophy is a member of the National College Football Awards Association (NCFAA). The NCFAA was founded in 1997 as a coalition of the major collegiate football awards to protect, preserve and enhance the integrity, influence and prestige of the game's predominant awards. The NCFAA encourages professionalism and the highest standards for the administration of its member awards and the selection of their candidates and recipients. For more information, visit the association's official Web site, ncfaa.org.