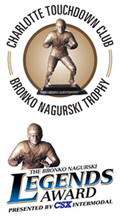 DALLAS (FWAA) – The 2010 Bronko Nagurski Trophy Watch List features the best and brightest of the upcoming season's defensive players. One of the more than 70 players on the list most likely will receive the Bronko Nagurski Trophy that is awarded annually to the nation's best defensive player by the Football Writers Association of America and the Charlotte Touchdown Club.
Players may be added or deleted to the Bronko Nagurski Watch List during the season. Each week during the 2010 season, the FWAA will choose a Defensive Player of the Week. If that player is not on the Watch List, he automatically will be added. The FWAA and the Charlotte Touchdown Club will announce five finalists for the Bronko Nagurski Trophy on November 18.
The annual Bronko Nagurski Trophy Banquet will be on Dec. 6 at the Westin Hotel in Charlotte, N.C. Besides the 2010 winner being announced, the banquet will also celebrate the winner of the Bronko Nagurski Legends Award, presented by CSX Intermodal. Defensive tackle Mike McCoy, a standout for Notre Dame, is being honored from the FWAA's 1969 All-America team.
2010 BRONKO NAGURSKI TROPHY PRESEASON WATCH LIST
Sam Acho, Texas, DT
Mark LeGree, Appalachian State, S
Prince Amukamara, Nebraska, CB
Travis Lewis, Oklahoma, LB
Marvin Austin, North Carolina, DT
Chris Marve, Vanderbilt, LB
Akeem Ayers, UCLA, LB
Cliff Matthews, South Carolina, DE
Allen Bailey, Miami, DE
DeAndre McDaniel, Clemson, S
Mark Barron, Alabama, S
Marcus McGraw, Houston, LB
Jeremy Beal, Oklahoma, DE
Josh McNary, Army, DE
Nick Bellore, Central Michigan, LB
Carmen Messina, New Mexico, LB
Chris Borland, Wisconsin, LB
Von Miller, Texas A&M, LB
Da'Quan Bowers, Clemson, DE
Bruce Miller, UCF, DE
Curtis Brown, Texas, CB
Dontay Moch, Nevada, DE
Vontaze Burfict, Arizona State, LB
Mike Mohamed, California, LB
Tank Carder, TCU, LB
Rahim Moore, UCLA, S
Bruce Carter, North Carolina, LB
Stephen Paea, Oregon State, DT
Adrian Clayborn, Iowa, DE
Patrick Peterson, LSU, CB
Jared Crick, Nebraska, DT
Jerrell Powe, Ole Miss, DT
Marcell Dareus, Alabama, DE
Robert Quinn, North Carolina. DE
Ras-I Dowling, Virginia, CB
Adrian Robinson, Temple, DE
Brian Duncan, Texas Tech, LB
Greg Romeus, Pittsburgh, DE
Chris Galippo, USC, LB
Kenny Rowe, Oregon, DE
Stephon Gilmore, South Carolina, CB
Robert Sands, West Virginia, S
Brandon Harris, Miami, CB
Tyler Sash, Iowa, S
Mario Harvey, Marshall, LB
J.K. Schaffer, Cincinnati, LB
Mark Herzlich, Boston College, LB
Kelvin Sheppard, LSU, LB
Cameron Heyward, Ohio State, DE
Aldon Smith, Missouri, DE
Dont'a Hightower, Alabama, LB
Craig Stevens, Auburn, LB
Ross Homan, Ohio State, LB
Quan Sturdivant, North Carolina, LB
Justin Houston, Georgia, LB
Manti Te'o, Notre Dame, LB
Jarvis Jenkins, Clemson, DT
J.T. Thomas, West Virginia, LB
Janoris Jenkins, Florida, CB
Trevin Wade, Arizona, CB
Tejay Johnson, TCU, S
J.J. Watt, Wisconsin, DE
Greg Jones, Michigan State, LB
Aaron Williams, Texas, CB
Thomas Keiser, Stanford, LB
Korey Williams, Southern Miss, LB
Noah Keller, Ohio, LB
Lawrence Wilson, Connecticut, LB
Shiloh Keo, Idaho, S
Ryan Winterswyk, Boise State, DE
Ryan Kerrigan, Purdue, DE
Anthony Wright, Air Force, CB
Luke Kuechly, Boston College, LB
Alex Wujciak, Maryland, LB
Players may be added or deleted from the list before or during the season
The Football Writers Association of America, a non-profit organization founded in 1941, consists of more than 1,200 men and women who cover college football for a living. The membership includes journalists, broadcasters and publicists, as well as key executives in all the areas that involve the game. The FWAA works to govern areas that include gameday operations, major awards and its annual All-America team. For more information about the FWAA and its award programs, contact Steve Richardson at tiger@fwaa.com or 972-713-6198.
The Charlotte Touchdown Club is a non-profit organization founded in 1990 for the purpose of promoting high school, collegiate, and professional football in the Charlotte, N.C. region. The club's activities and services focus community attention on the outstanding citizenship, scholarship, sportsmanship, and leadership of area athletes and coaches. For more information, contact John Rocco (704-347-2918 or jrocco@touchdownclub.com). The official website of the Charlotte Touchdown Club is www.touchdownclub.com.
The Bronko Nagurski Trophy is a member of the National College Football Awards Association (NCFAA). The NCFAA was founded in 1997 as a coalition of the major collegiate football awards to protect, preserve and enhance the integrity, influence and prestige of the game's predominant awards. The NCFAA encourages professionalism and the highest standards for the administration of its member awards and the selection of their candidates and recipients. For more information, visit the association's official website, ncfaa.org.
For more information of the FWAA and its member and award programs, contact Executive Director Steve Richardson (972-713-6198, tiger@fwaa.com).