DALLAS (FWAA) – With their 30-24 win at No. 7 Georgia Tech, the Georgia Bulldogs (7-5) are the Tostitos Fiesta Bowl National Team of the Week for games of the weekend of Nov. 28, as chosen by the board of the Football Writers Association of America.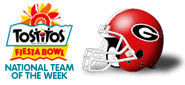 Washaun Ealy (183 yards) and Caleb King (166) combined to run for 349 yards and King scored twice while the Bulldogs limited Georgia Tech to 205 rushing yards, 109 below its season average. It was the first time since 2004 that Georgia had a pair of 100-yard rushers in the same game.
The Bulldogs jumped out to a 17-3 halftime lead and held off a late rally to complete the upset and send Georgia Tech stumbling into the ACC championship game. The win also avenged last season's 45-42 loss to the Yellow Jackets in Athens.
"I know we've got some areas to improve in," Georgia coach Mark Richt said after the game. "Right now, I'm just going to enjoy this victory."
Other Tostitos Fiesta Bowl Bowl National Team of the Week nominees for the weekend of Nov. 28 included:
• Mississippi State (5-7): Anthony Dixon and Chris Relf combined for 280 rushing yards as the Bulldogs defeated Ole Miss, 41-27, to claim the Egg Bowl.
• West Virginia (8-3): Tyler Bitancourt booted a 43-yard field goal – his fourth of the day – on the final play of the game to give the Mountaineers a 19-16 win over Pittsburgh in the annual "Backyard Brawl."
The FWAA has named a national team of the week since the 2002 season. This is the sixth season that the award has been sponsored by the Tostitos Fiesta Bowl.
Members of the FWAA board of directors and All-America committee decide the weekly honor. Each Monday during the 2009 college football season, the FWAA will name the Tostitos Bowl National Team of the Week through Dec. 7.
Since 1971, the Tostitos Fiesta Bowl has hosted six games that have decided the college football national championship, including three Bowl Championship Series title games. This season the Tostitos Fiesta Bowl game will be played on Jan. 4, 2010 at University of Phoenix Stadium in Glendale, Ariz., and the Insight Bowl will be played on Dec. 31, 2009 at Sun Devil Stadium in Tempe, Ariz.
For more information on the Tostitos Fiesta Bowl National Team of the Week, go to footballwriters.com or fiestabowl.org.