DALLAS (FWAA) – With their 33-30 overtime win at Notre Dame, the Connecticut Huskies (5-5) are the Tostitos Fiesta Bowl National Team of the Week for games of the weekend of Nov. 21, as chosen by the board of the Football Writers Association of America.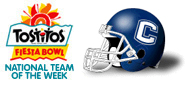 Andre Dixon scored from four yards out on the second overtime possession to give UConn the win. Dixon, who combined with Jordan Todman to each gain over 100 yards on the ground, had 96 yards rushing after the third quarter and finished with 114 yards on 20 carries. Todman ran for 130 yards on 26 totes and added a touchdown.
The Huskies overcame a missed field goal at the end of regulation to register their first win since the death of teammate Jasper Howard. Prior to Saturday, the Huskies had lost three straight games by a combined 10 points.
"I'm just so proud of those kids over in the locker room and those assistant coaches. We persevered today, and ended up making just a couple of plays at the end that we hadn't been able to make in some of our other games," head coach Randy Edsall said after the game. "There is no doubt that this is the biggest and best win that we've had so far in the short time that we've been an FBS school."
Other Tostitos Fiesta Bowl Bowl National Team of the Week nominees for the weekend of Nov. 21 included:
• Temple (9-2): The Owls scored 41 unanswered points to win their ninth straight game, 47-13 over Kent State. Their nine wins are the most since 1979 and the nine-game winning streak is the longest within one season in school history.
The FWAA has named a national team of the week since the 2002 season. This is the sixth season that the award has been sponsored by the Tostitos Fiesta Bowl.
Members of the FWAA board of directors and All-America committee decide the weekly honor. Each Monday during the 2009 college football season, the FWAA will name the Tostitos Bowl National Team of the Week through Dec. 7.
Since 1971, the Tostitos Fiesta Bowl has hosted six games that have decided the college football national championship, including three Bowl Championship Series title games. This season the Tostitos Fiesta Bowl game will be played on Jan. 4, 2010 at University of Phoenix Stadium in Glendale, Ariz., and the Insight Bowl will be played on Dec. 31, 2009 at Sun Devil Stadium in Tempe, Ariz.
For more information on the Tostitos Fiesta Bowl National Team of the Week, go to footballwriters.com or fiestabowl.org.