DALLAS (FWAA) – With their 55-21 win at No. 9 USC, the Stanford Cardinal (7-3) are the Tostitos Fiesta Bowl National Team of the Week for games of the weekend of Nov. 14, as chosen by the board of the Football Writers Association of America.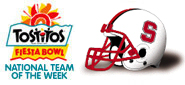 Toby Gerhart ran for 178 yards and three touchdowns and Andrew Luck threw two touchdown passes and ran for another as the Cardinal won for the second straight time in the Los Angeles Memorial Coliseum.
The loss was USC's worst since a 51-0 defeat to Notre Dame in 1966. USC is now 47-2 at home since Nov. 2001, with both losses coming to Stanford.
"We were just consistent," Luck said after the game. "Starting fast in both halves really helped us. Once we got rolling, we kept doing good things."
Other Tostitos Fiesta Bowl Bowl National Team of the Week nominees for the weekend of Nov. 14 included:
• TCU (10-0): In front of a school-record crowd of 50,307, the Horned Frogs extended their winning streak to 12 games with a 55-28 thrashing of Utah. TCU has now won 22 of its last 23 games.
The FWAA has named a national team of the week since the 2002 season. This is the sixth season that the award has been sponsored by the Tostitos Fiesta Bowl.
Members of the FWAA board of directors and All-America committee decide the weekly honor. Each Monday during the 2009 college football season, the FWAA will name the Tostitos Bowl National Team of the Week through Dec. 7.
Since 1971, the Tostitos Fiesta Bowl has hosted six games that have decided the college football national championship, including three Bowl Championship Series title games. This season the Tostitos Fiesta Bowl game will be played on Jan. 4, 2010 at University of Phoenix Stadium in Glendale, Ariz., and the Insight Bowl will be played on Dec. 31, 2009 at Sun Devil Stadium in Tempe, Ariz.
For more information on the Tostitos Fiesta Bowl National Team of the Week, go to footballwriters.com or fiestabowl.org.