DALLAS (FWAA) – With their 47-20 win over No. 4 USC, the Oregon Ducks (7-1) are the Tostitos Fiesta Bowl National Team of the Week for games of the weekend of Oct. 31, as chosen by the board of the Football Writers Association of America.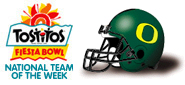 Jeremiah Masoli threw for 222 yards and a touchdown and ran for 164 yards and another score and LaMichael James ran for 183 yards and a touchdown as
the Ducks racked up 391 rushing yards. Coming into the game, USC boasted the fifth-best rushing defense in the nation, allowing just 79.9 yards per game.
The loss was USC's worst lost since a 35-7 defeat to Arizona State on Oct. 11, 1997, and put Oregon alone in first place in the Pacific-10 Conference.
""I haven't been a head coach that long," first-year head coach Chip Kelly said after the game. "This is my biggest win this week."
Other Tostitos Fiesta Bowl Bowl National Team of the Week nominees for the weekend of Oct. 31 included:
• Temple (6-2): Freshman Bernard Pierce ran for 267 yards and two touchdowns as the Owls nipped Navy, 27-24, for their sixth straight win, the school's longest winning streak since 1974.
The FWAA has named a national team of the week since the 2002 season. This is the sixth season that the award has been sponsored by the Tostitos Fiesta Bowl.
Members of the FWAA board of directors and All-America committee decide the weekly honor. Each Monday during the 2009 college football season, the FWAA will name the Tostitos Bowl National Team of the Week through Dec. 7.
Since 1971, the Tostitos Fiesta Bowl has hosted six games that have decided the college football national championship, including three Bowl Championship Series title games. This season the Tostitos Fiesta Bowl game will be played on Jan. 4, 2010 at University of Phoenix Stadium in Glendale, Ariz., and the Insight Bowl will be played on Dec. 31, 2009 at Sun Devil Stadium in Tempe, Ariz.
For more information on the Tostitos Fiesta Bowl National Team of the Week, go to footballwriters.com or fiestabowl.org.