DALLAS (FWAA) – With their 26-18 win over No. 7 Ohio State, the Purdue Boilermakers (2-5) are the Tostitos Fiesta Bowl National Team of the Week for games of the weekend of Oct. 17, as chosen by the board of the Football Writers Association of America.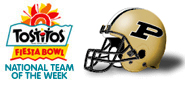 Joey Elliott threw a pair of touchdown passes to Aaron Valentin and Carson Wiggs booted four field goals for the Boilermakers, who had to withstand a fourth-quarter rally from the Buckeyes.
The win was Purdue's first over a ranked team since Nov. 8, 2003 and its first win over the Buckeyes since 2004. It also prevented Ohio State from tying the Big Ten record of 17 straight conference road wins.
"I've been real proud of this team all season," first-year head coach Danny Hope said after the game. "They've come out every game swinging hard. We talked all week long about it, and believed we could do it. We played hard and got it done today."
Other Tostitos Fiesta Bowl Bowl National Team of the Week nominees for the weekend of Oct. 17 included:
• Georgia Tech (6-1): Quarterback Josh Nesbitt ran for 122 yards and three touchdowns as the Yellow Jackets topped Virginia Tech, 28-23.

• Texas Tech (5-2): The Red Raiders ran out to a 21-0 lead and held Nebraska to 215 yards of total offense to upset the Huskers, 31-10, in Lincoln.
The FWAA has named a national team of the week since the 2002 season. This is the sixth season that the award has been sponsored by the Tostitos Fiesta Bowl.
Members of the FWAA board of directors and All-America committee decide the weekly honor. Each Monday during the 2009 college football season, the FWAA will name the Tostitos Bowl National Team of the Week through Dec. 7.
Since 1971, the Tostitos Fiesta Bowl has hosted six games that have decided the college football national championship, including three Bowl Championship Series title games. This season the Tostitos Fiesta Bowl game will be played on Jan. 4, 2010 at University of Phoenix Stadium in Glendale, Ariz., and the Insight Bowl will be played on Dec. 31, 2009 at Sun Devil Stadium in Tempe, Ariz.
For more information on the Tostitos Fiesta Bowl National Team of the Week, go to footballwriters.com or fiestabowl.org.