DALLAS (FWAA) – With their 58-41 win over Houston, the UTEP Miners (2-3) are the Tostitos Fiesta Bowl National Team of the Week for games of the weekend of Oct. 3.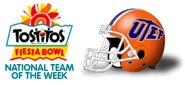 Donald Buckram ran for 262 yards and four touchdowns as the Miners knocked off the 12th-ranked team in the country. Buckram's rushing total was the second-highest in school history and the most since 1948. He is just the eighth UTEP player to rush for 200 yards in a game.
The win was UTEP's first over a ranked team since beating BYU on Nov. 1, 1997 and ended an 11-game losing streak to ranked foes. The No. 12 Cougars were the second-highest ranked opponent ever to fall to UTEP. The Miners beat 7th-ranked BYU back in 1985.
"It was a blast," UTEP head coach Mike Price said after the game. "We haven't had enough fun. It was long, it was tiring, and it was fun."
Other Tostitos Fiesta Bowl Bowl National Team of the Week nominees for the weekend of Oct. 3 included:
• Miami (3-1): Jacory Harris threw three touchdown passes and Javarris James ran for 150 yards to lead the Hurricanes past Oklahoma, 21-20.
• Michigan State (2-3): Larry Caper's 23-yard touchdown run in overtime gave Michigan State a 26-20 win over Michigan, marking the first time since 1967 the Spartans have won two straight vs. the Wolverines.
The FWAA has named a national team of the week since the 2002 season. This is the sixth season that the award has been sponsored by the Tostitos Fiesta Bowl.
Members of the FWAA board of directors and All-America committee decide the weekly honor. Each Monday during the 2009 college football season, the FWAA will name the Tostitos Bowl National Team of the Week through Dec. 7.
Since 1971, the Tostitos Fiesta Bowl has hosted six games that have decided the college football national championship, including three Bowl Championship Series title games. This season the Tostitos Fiesta Bowl game will be played on Jan. 4, 2010 at University of Phoenix Stadium in Glendale, Ariz., and the Insight Bowl will be played on Dec. 31, 2009 at Sun Devil Stadium in Tempe, Ariz.
For more information on the Tostitos Fiesta Bowl National Team of the Week, go to footballwriters.com or fiestabowl.org.