DALLAS (FWAA) – With their 16-13 win over USC, the Washington Huskies (2-1) are the Tostitos Fiesta Bowl National Team of the Week for games of the weekend of Sept. 19.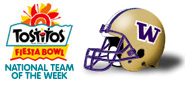 Eric Folk's third field goal of the day, a 22-yarder with three seconds remaining, enabled the Huskies, under first-year head coach and former USC assistant Steve Sarkisian, to stun the No. 3 Trojans.
The winning field goal capped a 10-play, 63-yard drive and gave Washington its first home win over an opponent ranked as high as No. 3 since it beat USC on Nov. 14, 1981. Quarterback Jake Locker was 4-for-4 for 56 yards on the drive.
"I'm proud of our kids. It's a great moment. It's a great moment for our program," Sarkisian said after the game. "Hopefully, it sends a message about where we're headed and what we're trying to do. It was just a great win over an excellent football team."
Other Tostitos Fiesta Bowl Bowl National Team of the Week nominees for the weekend of Sept. 19 included:
• Florida State (2-1): Christian Ponder completed 21-of-25 passes for 195 yards and two touchdowns as the Seminoles ended BYU's 18-game home winning streak with a decisive 54-28 win in Provo.
The FWAA has named a national team of the week since the 2002 season. This is the sixth season that the award has been sponsored by the Tostitos Fiesta Bowl.
Members of the FWAA board of directors and All-America committee decide the weekly honor. Each Monday during the 2009 college football season, the FWAA will name the Tostitos Bowl National Team of the Week through Dec. 7.
Since 1971, the Tostitos Fiesta Bowl has hosted six games that have decided the college football national championship, including three Bowl Championship Series title games. This season the Tostitos Fiesta Bowl game will be played on Jan. 4, 2010 at University of Phoenix Stadium in Glendale, Ariz., and the Insight Bowl will be played on Dec. 31, 2009 at Sun Devil Stadium in Tempe, Ariz.
For more information on the Tostitos Fiesta Bowl National Team of the Week, go to footballwriters.com or fiestabowl.org.