DALLAS (FWAA) – With their 14-13 win over Oklahoma in Arlington, Texas, the BYU Cougars (1-0) are the Tostitos Fiesta Bowl National Team of the Week for games of the weekend of Sept. 5.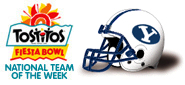 Max Hall threw for 329 yards and hit McKay Jacobson for the game-winning score with 3:03 left in the game as the Cougars beat a team ranked among the nation's top three for the first time since Sept. 8, 1990 vs. then-No. 1 Miami.
The Cougars knocked reigning Heisman Trophy winner Sam Bradford out of the game in the second quarter and held the Sooners to 265 yards in front of 75,437 in the first college game staged at Cowboys Stadium.
Other Tostitos Fiesta Bowl Bowl National Team of the Week nominees for the weekend of Sept. 5 included:
• Alabama (1-0): Mark Ingram ran for 150 yards and two fourth-quarter touchdowns as the Crimson Tide topped Virginia Tech, 34-24, in an opening-week showdown in Atlanta.

• Cincinnati (1-0): The defending Big East champs opened the season with a convincing 47-15 win at Rutgers. Tony Pike threw for 362 yards and three scores as the Bearcats opened a 31-7 halftime lead.

• Miami (1-0): Jacory Harris threw for 386 yards and a pair of scores and the Hurricanes thwarted Florida State's final drive on the goal line in a thrilling 38-34 win in Tallahassee.

• North Texas (1-0): Freshman Riley Dodge threw for 216 yards and ran for 73 more as the Mean Green stunned Ball State, 20-10, in Muncie, Ind.
The FWAA has named a national team of the week since the 2002 season. This is the sixth season that the award has been sponsored by the Tostitos Fiesta Bowl.
Members of the FWAA board of directors and All-America committee decide the weekly honor. Each Monday during the 2009 college football season, the FWAA will name the Tostitos Bowl National Team of the Week through Dec. 7.
Since 1971, the Tostitos Fiesta Bowl has hosted six games that have decided the college football national championship, including three Bowl Championship Series title games. This season the Tostitos Fiesta Bowl game will be played on Jan. 4, 2010 at University of Phoenix Stadium in Glendale, Ariz., and the Insight Bowl will be played on Dec. 31, 2009 at Sun Devil Stadium in Tempe, Ariz.
For more information on the Tostitos Fiesta Bowl National Team of the Week, go to footballwriters.com or fiestabowl.org.