NEWPORT BEACH, Calif. (FWAA) – Following their 37-21 win over Texas in the Citi BCS National Championship Game, the Alabama Crimson Tide (14-0) was presented the 2009 Grantland Rice Trophy by the Football Writers Association of America. FWAA president Tim Griffin of espn.com made the presentation to head coach Nick Saban at a morning news conference.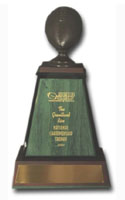 After trailing 6-0 in the first quarter, Alabama rallied to take a 24-6 halftime lead, punctuated by Trent Richardson's 49-yard touchdown run and Marcell Dareus' 28-yard interception return that came with just three seconds left in the first half.
Heisman Trophy winner Mark Ingram ran for 116 yards and two scores and Richardson added 109 yards and another pair of scores on the ground. Two late turnovers forced by the Crimson Tide defense allowed Alabama to stretch a 24-21 fourth-quarter lead and provide the final margin of victory.
The Grantland Rice Trophy has been presented by the Football Writers Association of America to college football's national champion since 1954. Named for the legendary sportswriter, the Grantland Rice Trophy was the first national championship award to be presented after the college football postseason.
This is the fifth time Alabama has been awarded the FWAA national championship trophy and the fourth straight season a team from the Southeastern Conference has earned the award. The last time Alabama won an FWAA national title was in 1992. Other Alabama FWAA titles came in 1965 (a tie with Michigan State) and back-to-back Grantland Rice Trophies in 1978 and '79.
A panel of veteran FWAA member writers selected the Crimson Tide as the FWAA's national champion. Although the FWAA does not conduct a final poll at the end of the season, it will conduct a 2010 preseason poll during this summer when the entire membership will vote. The poll will be released in late August before the beginning of the upcoming season.
The Football Writers Association of America, a non-profit organization founded in 1941, consists of more than 1,100 men and women across North America who cover college football for a living. The membership includes journalists, broadcasters and publicists, as well as key executives in all the areas that involve the game. The FWAA works to govern areas that include game day operations, major awards, a national poll and its annual All-America team.
For more information on the FWAA and its award programs, contact FWAA executive director Steve Richardson (972-713-6198 or tiger@fwaa.com).
Related link:
• All-time Grantland Rice Trophy winners