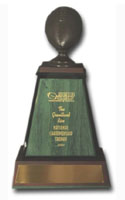 The Grantland
Rice Trophy
DALLAS (FWAA) – The Florida Gators will win their third Grantland Rice Trophy in four seasons if a panel of Football Writers Association of America members is correct. The defending national champion Gators were a near unanimous choice to claim the 2009 national title.
Selected No. 1 on 20 of 21 ballots by a group of national writers, the Gators would become the first team in history to win the Grantland Rice Trophy three times in a four-year period. It would be only the sixth time a school has won it back-to-back. The Grantland Rice Trophy previously has been claimed by Oklahoma (1955-56), Nebraska (1970-71 and 1994-95), Alabama (1978-79) and USC (2003-04) in back-to-back seasons.
FWAA voters selected Big 12 powers Texas and Oklahoma next, followed by USC, the last school to win back-to-back Grantland Rice trophies.
Alabama, Virginia Tech, Ohio State, Ole Miss, Oklahoma State and Penn State rounded out the first 10. Teams 11-15 are LSU, California, Oregon, Georgia and Boise State (tie). There were five Southeastern Conference schools in the rankings - the most of any conference.
2009 PRESEASON GRANTLAND RICE POLL
Rank
School [1st]
Conference
W-L
Opening Game
1.
Florida [20]
SEC
13-1
vs. Charleston Southern
2.
Texas
Big 12
12-1
ULM
3.
Oklahoma [1]
Big 12
12-2
vs. BYU (Arlington, Texas)
4.
USC
Pac-10
12-1
vs. San Jose State
5.
Alabama
SEC
12-2
vs. Virginia Tech (Atlanta)
6.
Virginia Tech
ACC
10-4
vs. Alabama (Atlanta)
7.
Ohio State
Big Ten
10-3
vs. Navy
8.
Ole Miss
SEC
9-4
at Memphis
9.
Oklahoma State
Big 12
9-4
vs. Georgia
10.
Penn State
Big Ten
11-2
Akron
11.
LSU
SEC
8-5
at Washington
12.
California
Pac-10
9-4
vs. Maryland
13.
Oregon
Pac-10
10-3
at Boise State
t14.
Boise State
WAC
12-1
vs. Oregon
t14.
Georgia
SEC
10-3
at Oklahoma State
Records are from the 2008 season
By conference: SEC 5, Big 12 3, Pac-10 3, Big Ten 2, ACC 1, WAC 1.
The 2009 Grantland Rice Trophy will be awarded by a vote of selected board members and past presidents of the association after the Citi BCS Championship Game. It will be presented to the FWAA's national champion the morning after the BCS title game in Los Angeles.
The Grantland Rice Trophy, given to college football's national champion since 1954, is named in memory of the legendary sportswriter. It was the first national championship awarded presented after college football's post-season.
While the FWAA will not conduct a weekly poll this season, it will present the Tostitos Fiesta Bowl National Team of the Week each Monday, as selected by a panel of select FWAA members. This marks the eighth season the FWAA will present a team of the week.
The Football Writers Association of America, a non-profit organization founded in 1941, consists of more than 1,100 men and women who cover college football for a living. The membership includes journalists, broadcasters and publicists, as well as key executives in all the areas that involve the game. The FWAA works to govern areas that include gameday operations, major awards and its annual All-America team. For more information about the FWAA and its award programs, contact Steve Richardson at tiger@fwaa.com or 972-713-6198.