DALLAS (FWAA) – Six Football Writers Association of America All-Americans are among 62 players selected to the 2009 Bronko Nagurski Watch List, announced today by the FWAA and the Charlotte Touchdown Club. Included on the list are two past finalists for the Bronko Nagurski Trophy, TCU end Jerry Hughes and South Florida end George Selvie.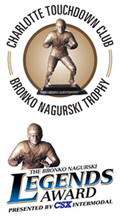 The Bronko Nagurski Trophy is awarded annually to the nation's best defensive player by the FWAA and the Charlotte Touchdown Club. The trophy has been presented since 1993 and is awarded in memory of the legendary Nagurski, an All-America lineman at Minnesota in 1927-29 and a star for professional football's Chicago Bears in the 1930s.
Besides Hughes, a 2008 All-American, and Selvie, a 2007 All-American, other FWAA All-Americans from last season on the 2009 Watch List are Tennessee defensive back Eric Berry Alabama tackle Terrence Cody, USC defensive back Taylor Mays and Florida linebacker Brandon Spikes.
The Bronko Nagurski Watch List is fluid. Players may be added or removed during the season. After the first four games of the season, the FWAA will revise the list and at that time school sports information directors may submit names for players not on the list to the FWAA and their conference's FWAA All-America Committee representative.
Each week during the 2009 season, the FWAA will choose a Bronko Nagurski National Defensive Player of the Week. If the selected player is not on the watch list, he automatically will be added. The FWAA and the Charlotte Touchdown Club will announce five finalists for the Bronko Nagurski Trophy on November 18 or 19.
The annual Bronko Nagurski Trophy Banquet will be on Dec. 7 at the Westin Hotel in Charlotte, N.C. Besides the 2009 winner being announced, the banquet will also celebrate the winner of the Bronko Nagurski Legends Award, presented by CSX Intermodal. Defensive back Roger Wehrli, a standout for the University of Missouri and the St. Louis Cardinals, is being honored from the FWAA's 1968 All-American team.
2009 BRONKO NAGURSKI TROPHY PRESEASON WATCH LIST
Javier Arenas, DB, Alabama
Koa Misi, DE, Utah
Geno Atkins, DT, Georgia
Jerome Murphy, CB, USF
Kevin Basped, DE, Nevada
Andre Neblett, NT, Temple
Jeremy Beal, DE, Oklahoma
Eric Norwood, LB, South Carolina
Eric Berry, DB, Tennessee
Jared Odrick, DT, Penn State
Navorro Bowman, LB, Penn State
Vince Oghobaase, DT, Duke
Morgan Burnett, DB, Georgia Tech
Jeff Owens, DT, Georgia
Kam Chancellor, DB, Virginia Tech
Stephen Paea, DT, Oregon State
Barry Church, DB, Toledo
Joe Pawelek, LB, Baylor
Terrence Cody, DT, Alabama
Brian Price, DT, UCLA
Kurt Coleman, DB, Ohio State
Boo Robinson, NG, Wake Forest
Antonio Coleman, DE, Auburn
George Selvie, DE, USF
Rennie Curran, LB, Georgia
Malcolm Sheppard, DT, Arkansas
Ras-I Dowling, CB, Virginia
D'Anthony Smith, DT, Louisiana Tech
Carlos Dunlap, DE, Florida
Brandon Spikes, LB, Florida
Brandon Graham, DE, Michigan
Darrell Stuckey, DB, Kansas
Joe Haden, DB, Florida
Quan Sturdivant, LB, North Carolina
Greg Hardy, DE, Ole Miss
Ndamukong Suh, DT, Nebraska
Jerry Hughes, DE, TCU
Syd'Quan Thompson, DB, California
Micah Johnson, LB, Kentucky
Walter Thurmond III, DB, Oregon
Greg Jones, LB, Michigan State
Torrell Troup, DT, UCF
Arthur Jones, DT, Syracuse
Alterraun Verner, DB, UCLA
Sergio Kindle, LB, Texas
T.J. Ward, DB, Oregon
Brandon Lang, DE, Troy
Daryl Washington, LB, TCU
Sean Lee, LB, Penn State
Sean Weatherspoon, LB, Missouri
Mark LeGree, DB, Appalachian State
Deunta Williams, FS, North Carolina
Myron Lewis, CB, Vanderbilt
Kyle Wilson, CB, Boise State
Trevard Lindley, DB, Kentucky
C.J. Wilson, DE, East Carolina
Taylor Mays, DB, USC
Corey Wootton, DE, Northwestern
Rolondo McClain, LB, Alabama
Alex Wujciak, LB, Maryland
Gerald McCoy, DT, Oklahoma
Willie Young, DE, N.C. State
Players may be added or deleted from the list before or during the season
The Football Writers Association of America, a non-profit organization founded in 1941, consists of more than 1,100 men and women who cover college football for a living. The membership includes journalists, broadcasters and publicists, as well as key executives in all the areas that involve the game. The FWAA works to govern areas that include gameday operations, major awards and its annual All-America team. For more information about the FWAA and its award programs, contact Steve Richardson at tiger@fwaa.com or 972-713-6198.
The Charlotte Touchdown Club is a non-profit organization founded in 1990 for the purpose of promoting high school, collegiate, and professional football in the Charlotte, N.C. region. The club's activities and services focus community attention on the outstanding citizenship, scholarship, sportsmanship, and leadership of area athletes and coaches. For more information, contact John Rocco (704-347-2918 or jrocco@touchdownclub.com). The official website of the Charlotte Touchdown Club is www.touchdownclub.com.
The Bronko Nagurski Trophy is a member of the National College Football Awards Association (NCFAA). The NCFAA was founded in 1997 as a coalition of the major collegiate football awards to protect, preserve and enhance the integrity, influence and prestige of the game's predominant awards. The NCFAA encourages professionalism and the highest standards for the administration of its member awards and the selection of their candidates and recipients. For more information, visit the association's official website, ncfaa.org.