DALLAS (FWAA) – With their 65-21 win over Texas Tech, the Oklahoma Sooners (10-1) are the Tostitos Fiesta Bowl National Team of the Week for games of the weekend of Nov. 22.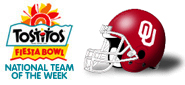 Spurred by a 35-point second quarter, the Sooners rolled up 625 yards of offense in scoring the most points ever allowed by Texas Tech in handing the Red Raiders their first defeat of the season.
Sam Bradford threw for 304 yards and four touchdowns and DeMarco Murray (125 yards) and Chris Brown (108) combined for five touchdown runs as each eclipsed the century mark on the ground.
The Sooners' win created a three-way logjam atop the Big 12 South standings.
Other Tostitos Fiesta Bowl Bowl National Team of the Week nominees for the weekend of Nov. 22 included:
• Florida State (8-3): The Seminoles scored two first-half touchdowns after Maryland turnovers and rolled past the Terps, 37-3, in College Park.

• N.C. State (5-6): The Wolfpack forced six turnovers in a 41-10 win at North Carolina, their largest margin of victory in the in-state series since 1989.

• Northwestern (9-3): The Wildcats retired the Sweet Sioux Tomahawk Trophy with a 27-10 win over Illinois to give them their first 9-win season since 1996.
The FWAA has named a national team of the week since the 2002 season. This is the fifth season that the award has been sponsored by the Tostitos Fiesta Bowl.
Members of the FWAA board of directors and All-America committee decide the weekly honor. Each Monday during the 2008 college football season, the FWAA will name the Tostitos Bowl National Team of the Week through Dec. 1.
Since 1971, the Tostitos Fiesta Bowl has hosted six games that have decided the college football national championship, including three Bowl Championship Series title games. This season the Tostitos Fiesta Bowl game will be played on Jan. 5, 2009 at University of Phoenix Stadium in Glendale, Ariz., and the Insight Bowl will be played on Dec. 31, 2008 at Sun Devil Stadium in Tempe, Ariz.
For more information on the Tostitos Fiesta Bowl National Team of the Week, go to www.footballwriters.com or www.fiestabowl.org.