DALLAS (FWAA) – With their 70-30 win over Tulsa, the Houston Cougars (6-4) are the Tostitos Fiesta Bowl National Team of the Week for games of the weekend of Nov. 15.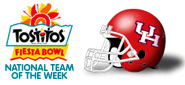 Case Keenum threw six touchdown passes – five in the first half – and ran for another score as the Cougars raced to a 42-17 halftime lead.
Houston's Loyce Means intercepted three passes, including one he returned 69 yards for a touchdown.
The win moves Houston into a three-way tie for first place in Conference USA's West division with Rice and Tulsa.
Other Tostitos Fiesta Bowl Bowl National Team of the Week nominees for the weekend of Nov. 15 included:
• Florida (9-1): Percy Harvin ran for a career-high 167 yards to pace the Gators in their 56-6 rout of South Carolina.

• Northwestern (8-3): C.J. Bacher threw a pair of second-half touchdown passes as the Wildcats beat Michigan for just the fifth time since 1905, 21-14.

• Vanderbilt (6-4): D.J. Moore caught two touchdown passes and had a pair of interceptions as Vanderbilt became bowl eligible for the first time since 1982 with a 31-24 win at Kentucky.
The FWAA has named a national team of the week since the 2002 season. This is the fifth season that the award has been sponsored by the Tostitos Fiesta Bowl.
Members of the FWAA board of directors and All-America committee decide the weekly honor. Each Monday during the 2008 college football season, the FWAA will name the Tostitos Bowl National Team of the Week through Dec. 1.
Since 1971, the Tostitos Fiesta Bowl has hosted six games that have decided the college football national championship, including three Bowl Championship Series title games. This season the Tostitos Fiesta Bowl game will be played on Jan. 5, 2009 at University of Phoenix Stadium in Glendale, Ariz., and the Insight Bowl will be played on Dec. 31, 2008 at Sun Devil Stadium in Tempe, Ariz.
For more information on the Tostitos Fiesta Bowl National Team of the Week, go to www.footballwriters.com or www.fiestabowl.org.