DALLAS (FWAA) – With their 24-23 win over third-ranked Penn State, the Iowa Hawkeyes (6-4) are the Tostitos Fiesta Bowl National Team of the Week for games of the weekend of Nov. 8.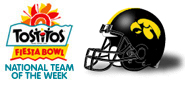 Reserve placekicker Daniel Murray capped a 10-point fourth-quarter rally with a 31-yard field with one second left to give Iowa the upset win.
Shonn Green ran for 117 yards and two touchdowns and the Iowa defense held Penn State's Daryll Clark to 86 yards passing and forced him to throw just his third interception of the year.
Other Tostitos Fiesta Bowl Bowl National Team of the Week nominees for the weekend of Nov. 8 included:
• Texas Tech (10-0): Graham Harrell threw for 456 yards and six touchdowns as the Red Raiders routed Oklahoma State, 56-20, to keep their perfect record in tact.

• Utah (10-0): Freddie Brown caught a 9-yard touchdown pass with 48 seconds left as the Utes won a thriller over TCU, 13-10.
The FWAA has named a national team of the week since the 2002 season. This is the fifth season that the award has been sponsored by the Tostitos Fiesta Bowl.
Members of the FWAA board of directors and All-America committee decide the weekly honor. Each Monday during the 2008 college football season, the FWAA will name the Tostitos Bowl National Team of the Week through Dec. 1.
Since 1971, the Tostitos Fiesta Bowl has hosted six games that have decided the college football national championship, including three Bowl Championship Series title games. This season the Tostitos Fiesta Bowl game will be played on Jan. 5, 2009 at University of Phoenix Stadium in Glendale, Ariz., and the Insight Bowl will be played on Dec. 31, 2008 at Sun Devil Stadium in Tempe, Ariz.
For more information on the Tostitos Fiesta Bowl National Team of the Week, go to www.footballwriters.com or www.fiestabowl.org.