DALLAS (FWAA) – With their 39-33 win over top-ranked Texas, the Texas Tech Red Raiders (9-0) are the Tostitos Fiesta Bowl National Team of the Week for games of the weekend of Nov. 1.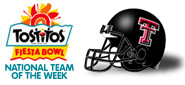 Michael Crabtree hauled in 28-yard touchdown pass with one second left to lift the Red Raiders to their first-ever win vs. a No. 1-ranked team. Graham Harrell threw for 474 yards and two touchdowns, but Texas Tech had to rally after opening a 19-0 first-half lead.
The win extends Texas Tech's winning streak to 11 games and snaps a 5-game losing streak vs. Texas. It also gives the Red Raiders a 5-0 mark in conference play for the first time since 1953, when they were a member of the Border Conference.
Other Tostitos Fiesta Bowl Bowl National Team of the Week nominees for the weekend of Nov. 1 included:
• Florida (7-1): Tim Tebow ran for three touchdowns and threw for two others in the Gators' 49-10 drubbing of Georgia in Jacksonville.

• Northwestern (7-2): Brendan Smith returned an interception 48 yards for a touchdown with 12 seconds left as the Wildcats stunned Minnesota, 24-17, in Minneapolis.
The FWAA has named a national team of the week since the 2002 season. This is the fifth season that the award has been sponsored by the Tostitos Fiesta Bowl.
Members of the FWAA board of directors and All-America committee decide the weekly honor. Each Monday during the 2008 college football season, the FWAA will name the Tostitos Bowl National Team of the Week through Dec. 1.
Since 1971, the Tostitos Fiesta Bowl has hosted six games that have decided the college football national championship, including three Bowl Championship Series title games. This season the Tostitos Fiesta Bowl game will be played on Jan. 5, 2009 at University of Phoenix Stadium in Glendale, Ariz., and the Insight Bowl will be played on Dec. 31, 2008 at Sun Devil Stadium in Tempe, Ariz.
For more information on the Tostitos Fiesta Bowl National Team of the Week, go to www.footballwriters.com or www.fiestabowl.org.