DALLAS (FWAA) – With their 13-6 win at 9th-ranked Ohio State, the Penn State Nittany Lions (9-0) are the Tostitos Fiesta Bowl National Team of the Week for games of the weekend of Oct. 25.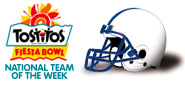 Reserve quarterback Pat Devlin came off the bench and led the Nittany Lions to 10 unanswered points in the fourth quarter. His one-yard run capped off a 38-yard drive that gave Penn State the lead for good.
Penn State had not won in Columbus since joining the Big Ten and the win was their first at Ohio State since 1978. It came in front of a record crowd of 105,711.
Other Tostitos Fiesta Bowl Bowl National Team of the Week nominees for the weekend of Oct. 25 included:
• Minnesota (7-1): The Golden Gophers forced four turnovers and recorded five sacks in a 17-6 win at Purdue, their first win in West Lafayette since 1990.

• Rutgers (3-5): Mike Teel threw a school-record six touchdown passes in a 54-34 rout at Pittsburgh.
The FWAA has named a national team of the week since the 2002 season. This is the fifth season that the award has been sponsored by the Tostitos Fiesta Bowl.
Members of the FWAA board of directors and All-America committee decide the weekly honor. Each Monday during the 2008 college football season, the FWAA will name the Tostitos Bowl National Team of the Week through Dec. 1.
Since 1971, the Tostitos Fiesta Bowl has hosted six games that have decided the college football national championship, including three Bowl Championship Series title games. This season the Tostitos Fiesta Bowl game will be played on Jan. 5, 2009 at University of Phoenix Stadium in Glendale, Ariz., and the Insight Bowl will be played on Dec. 31, 2008 at Sun Devil Stadium in Tempe, Ariz.
For more information on the Tostitos Fiesta Bowl National Team of the Week, go to www.footballwriters.com or www.fiestabowl.org.