DALLAS (FWAA) – With their 32-7 win over 9th-ranked BYU, the TCU Horned Frogs (7-1) are the Tostitos Fiesta Bowl National Team of the Week for games of the weekend of Oct. 18.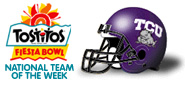 TCU sacked BYU quarterback Max Hall six times and ran out to a 23-0 halftime lead before ending the nation's longest winning streak at 16 games.
The TCU defense, which leads the nation in fewest yards allowed per game, limited BYU to 297 yards and just 23 on the ground while forcing four turnovers from the previously unbeaten Cougars.
Other Tostitos Fiesta Bowl Bowl National Team of the Week nominees for the weekend of Oct. 18 included:
• Maryland (5-2): The Terrapins limited Wake Forest to 219 yards in handing the Demon Deacons their first shutout loss in more than ten years, 26-0, in College Park.

• Texas (7-0): Colt McColt completed 29-of-32 passes for 337 yards and two touchdowns as the top-ranked Longhorns flattened Missouri, 56-31.
The FWAA has named a national team of the week since the 2002 season. This is the fifth season that the award has been sponsored by the Tostitos Fiesta Bowl.
Members of the FWAA board of directors and All-America committee decide the weekly honor. Each Monday during the 2008 college football season, the FWAA will name the Tostitos Bowl National Team of the Week through Dec. 1.
Since 1971, the Tostitos Fiesta Bowl has hosted six games that have decided the college football national championship, including three Bowl Championship Series title games. This season the Tostitos Fiesta Bowl game will be played on Jan. 5, 2009 at University of Phoenix Stadium in Glendale, Ariz., and the Insight Bowl will be played on Dec. 31, 2008 at Sun Devil Stadium in Tempe, Ariz.
For more information on the Tostitos Fiesta Bowl National Team of the Week, go to www.footballwriters.com or www.fiestabowl.org.