DALLAS (FWAA) – With their 14-13 win over 13th-ranked Auburn, the Vanderbilt Commodores (5-0) are the Tostitos Fiesta Bowl National Team of the Week for games of the weekend of Oct. 4.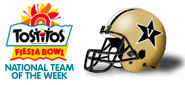 Mackenzi Adams threw a pair of touchdown passes as the Commodores improved to 5-0 for the first time since 1943. The Vanderbilt defense limited Auburn to just 208 yards and registered five sacks by five different players.
Vanderbilt's 3-0 start in SEC play is the school's best since 1950. The win over Auburn snapped a 13-game losing streak to the Tigers that dated back to the 1955 Gator Bowl. Coming in ranked No. 19, the Commodores also produced their first win as a ranked team since 1956.
Other Tostitos Fiesta Bowl Bowl National Team of the Week nominees for the weekend of Oct. 4 included:
• Army (1-4): Collin Mooney ran for 187 yards and four touchdowns to help the Black Knights end a 10-game losing streak with a 44-13 win at Tulane.

• North Carolina (4-1): Converted safety Shawn Draughn ran for 109 yards and a score as the Tar Heels recorded their first win over a ranked non-conference opponent since 1997 with their 38-12 win over No. 24 Connecticut.

• Pittsburgh (4-1): LeSean McCoy ran for 142 yards and two touchdowns as the Panthers upset 10th-ranked South Florida, 26-21, in Tampa.
The FWAA has named a national team of the week since the 2002 season. This is the fifth season that the award has been sponsored by the Tostitos Fiesta Bowl.
Members of the FWAA board of directors and All-America committee decide the weekly honor. Each Monday during the 2008 college football season, the FWAA will name the Tostitos Bowl National Team of the Week through Dec. 1.
Since 1971, the Tostitos Fiesta Bowl has hosted six games that have decided the college football national championship, including three Bowl Championship Series title games. This season the Tostitos Fiesta Bowl game will be played on Jan. 5, 2009 at University of Phoenix Stadium in Glendale, Ariz., and the Insight Bowl will be played on Dec. 31, 2008 at Sun Devil Stadium in Tempe, Ariz.
For more information on the Tostitos Fiesta Bowl National Team of the Week, go to www.footballwriters.com or www.fiestabowl.org.