DALLAS (FWAA) – With their 27-21 win over top-ranked USC, the Oregon State Beavers (2-2) are the Tostitos Fiesta Bowl National Team of the Week for games of the weekend of Sept. 27.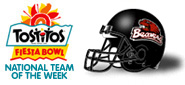 Freshman Jacquizz Rodgers ran for 186 yards and two touchdowns as the Beavers sprinted to a 21-0 halftime lead. Safety Greg Laybourn's fourth-quarter interception led to Oregon State's final score and sealed the win.
It was the second time in school history that Oregon State has knocked off a No. 1 team, the last coming in a 3-0 win over USC in 1967. Two years ago, the Beavers beat No. 3 USC in Corvallis as well.
Other Tostitos Fiesta Bowl Bowl National Team of the Week nominees for the weekend of Sept. 27 included:
• Alabama (5-0): The Crimson Tide scored on its first five possessions to lead 31-0 on its way to a convincing 41-30 win at Georgia.

• Duke (3-1): The Blue Devils ended a 25-game ACC losing streak with a 31-3 win over Virginia. Duke, off to its best start since 1994, forced five second-half turnovers in the win.

• Ole Miss (3-2): Jevan Snead threw two touchdown passes and ran for another and the Rebels blocked the game-tying extra point and stuffed Tim Tebow on fourth down to upset Florida, 31-30, in Gainseville. The win ended a 14-game road losing streak in SEC play for Ole Miss.
The FWAA has named a national team of the week since the 2002 season. This is the fifth season that the award has been sponsored by the Tostitos Fiesta Bowl.
Members of the FWAA board of directors and All-America committee decide the weekly honor. Each Monday during the 2008 college football season, the FWAA will name the Tostitos Bowl National Team of the Week through Dec. 1.
Since 1971, the Tostitos Fiesta Bowl has hosted six games that have decided the college football national championship, including three Bowl Championship Series title games. This season the Tostitos Fiesta Bowl game will be played on Jan. 5, 2009 at University of Phoenix Stadium in Glendale, Ariz., and the Insight Bowl will be played on Dec. 31, 2008 at Sun Devil Stadium in Tempe, Ariz.
For more information on the Tostitos Fiesta Bowl National Team of the Week, go to www.footballwriters.com or www.fiestabowl.org.