DALLAS (FWAA) – With their 37-32 win at Oregon, the Boise State Broncos (3-0) are the Tostitos Fiesta Bowl National Team of the Week for games of the weekend of Sept. 20.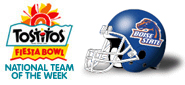 Kellen Moore threw for 386 yards and three touchdowns as the Broncos used a 24-point second quarter to build a 37-13 lead.
Boise State ended Oregon's 18-game winning streak vs. Western Athletic Conference schools as the Broncos upended a BCS conference team on the road for the first time in school history.
Other Tostitos Fiesta Bowl Bowl National Team of the Week nominees for the weekend of Sept. 20 included:
• LSU (3-0): Jarrett Lee threw an 18-yard touchdown pass to Brandon LaFell with 1:03 left as the Tigers rallied past Auburn, 26-21.

• Vanderbilt (4-0): The Commodores forced six turnovers in a 23-17 win at Ole Miss to improve to 4-0 and earn a spot in the Associated Press Top 25 for the first time since 1984.
The FWAA has named a national team of the week since the 2002 season. This is the fifth season that the award has been sponsored by the Tostitos Fiesta Bowl.
Members of the FWAA board of directors and All-America committee decide the weekly honor. Each Monday during the 2008 college football season, the FWAA will name the Tostitos Bowl National Team of the Week through Dec. 1.
Since 1971, the Tostitos Fiesta Bowl has hosted six games that have decided the college football national championship, including three Bowl Championship Series title games. This season the Tostitos Fiesta Bowl game will be played on Jan. 5, 2009 at University of Phoenix Stadium in Glendale, Ariz., and the Insight Bowl will be played on Dec. 31, 2008 at Sun Devil Stadium in Tempe, Ariz.
For more information on the Tostitos Fiesta Bowl National Team of the Week, go to www.footballwriters.com or www.fiestabowl.org.