DALLAS (FWAA) – With their 35-3 win over 5th-ranked Ohio State, the USC Trojans (2-0) are the Tostitos Fiesta Bowl National Team of the Week for games of the weekend of Sept. 13.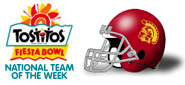 Mark Sanchez threw four touchdown passes and Joe McKnight ran for 102 yards as the Trojans lived up to their No. 1 ranking in front of 93,607 at the Los Angeles Memorial Coliseum.
USC won for the 39th time in its last 40 home games and dominated the first meeting with the Buckeyes since 1990.
Other Tostitos Fiesta Bowl Bowl National Team of the Week nominees for the weekend of Sept. 13 included:
• BYU (3-0): Max Hall threw seven touchdown passes as the Cougars handed UCLA its worst loss in 75 years, 59-0, in Provo.

• UNLV (2-1): Malo Taumua blocked a field goal in overtime as UNLV upset Arizona State, 23-20, to complete a four-game weekend sweep of the Pac-10 by the Mountain West.
The FWAA has named a national team of the week since the 2002 season. This is the fifth season that the award has been sponsored by the Tostitos Fiesta Bowl.
Members of the FWAA board of directors and All-America committee decide the weekly honor. Each Monday during the 2008 college football season, the FWAA will name the Tostitos Bowl National Team of the Week through Dec. 1.
Since 1971, the Tostitos Fiesta Bowl has hosted six games that have decided the college football national championship, including three Bowl Championship Series title games. This season the Tostitos Fiesta Bowl game will be played on Jan. 5, 2009 at University of Phoenix Stadium in Glendale, Ariz., and the Insight Bowl will be played on Dec. 31, 2008 at Sun Devil Stadium in Tempe, Ariz.
For more information on the Tostitos Fiesta Bowl National Team of the Week, go to www.footballwriters.com or www.fiestabowl.org.