DALLAS (FWAA) – With their 24-3 win over 8th-ranked West Virginia, the East Carolina Pirates (2-0) are the Tostitos Fiesta Bowl National Team of the Week for games of the weekend of Sept. 6.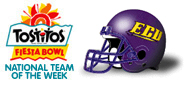 Patrick Pinkney completed 22-of-28 passes for 236 yards and a score and Jonathan Williams had two short touchdown runs as the Pirates won their third straight game vs. a ranked opponent.
East Carolina closed the 2007 season by beating then-No. 22 Boise State in the Hawaii Bowl and opened the 2008 campaign with a 27-22 win over then-No. 17 Virginia Tech last week.
Entering Saturday's game, East Carolina had lost seven straight to West Virginia and had won just twice in 19 tries in the series.
Other Tostitos Fiesta Bowl Bowl National Team of the Week nominees for the weekend of Sept. 6 included:
• Middle Tennessee (1-1): Joe Craddock threw for 256 yards and two touchdowns as the Blue Raiders defeated Maryland, 24-14, to register their first-ever win over an ACC team.

• Vanderbilt (2-0): The Commodores upset South Carolina for the second straight season, 24-17, marking their first home win over a ranked team since 1992.
The FWAA has named a national team of the week since the 2002 season. This is the fifth season that the award has been sponsored by the Tostitos Fiesta Bowl.
Members of the FWAA board of directors and All-America committee decide the weekly honor. Each Monday during the 2008 college football season, the FWAA will name the Tostitos Bowl National Team of the Week through Dec. 1.
Since 1971, the Tostitos Fiesta Bowl has hosted six games that have decided the college football national championship, including three Bowl Championship Series title games. This season the Tostitos Fiesta Bowl game will be played on Jan. 5, 2009 at University of Phoenix Stadium in Glendale, Ariz., and the Insight Bowl will be played on Dec. 31, 2008 at Sun Devil Stadium in Tempe, Ariz.
For more information on the Tostitos Fiesta Bowl National Team of the Week, go to www.footballwriters.com or www.fiestabowl.org.