DALLAS (FWAA) – With their 34-10 win over Clemson in Atlanta, the Alabama Crimson Tide (1-0) is the Tostitos Fiesta Bowl National Team of the Week for games of the weekend of Aug. 30.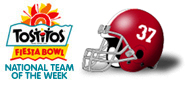 The Alabama defense held Clemson to just 188 yards of total offense and 11 first downs. Clemson finished the game with no rushing yards.
John Parker Wilson completed 22-of-30 passes for 180 yards and two scores and Mark Ingram and Glen Coffee combined for 186 yards rushing. Leigh Tiffin also booted four field goals for the Crimson Tide.
For Alabama, it was the Tide's 12th straight win over Clemson and its seventh straight to open a season.
Other Tostitos Fiesta Bowl Bowl National Team of the Week nominees for the weekend of Aug. 30 included:
• East Carolina (1-0): T.J. Lee blocked a punt and returned it 24 yards for a touchdown with 1:52 left in the game to give the Pirates a 27-22 win over Virginia Tech.

• UCLA (1-0): Kai Forbath's 42-yard field goal in overtime gave coach Rick Neuheisel a 27-24 win over Tennessee in his coaching debut for the Bruins.

• Utah (1-0): Brian Johnson threw for 305 yards and Louie Sakoda kicked four field goals as the Utes beat Michigan, 25-23, in front of 108,421 in Ann Arbor.
The FWAA has named a national team of the week since the 2002 season. This is the fifth season that the award has been sponsored by the Tostitos Fiesta Bowl.
Members of the FWAA board of directors and All-America committee decide the weekly honor. Each Monday during the 2008 college football season, the FWAA will name the Tostitos Bowl National Team of the Week through Dec. 1.
Since 1971, the Tostitos Fiesta Bowl has hosted six games that have decided the college football national championship, including three Bowl Championship Series title games. This season the Tostitos Fiesta Bowl game will be played on Jan. 5, 2009 at University of Phoenix Stadium in Glendale, Ariz., and the Insight Bowl will be played on Dec. 31, 2008 at Sun Devil Stadium in Tempe, Ariz.
For more information on the Tostitos Fiesta Bowl National Team of the Week, go to www.footballwriters.com or www.fiestabowl.org.