FT. LAUDERDALE, Fla. (FWAA) – Following their 24-14 win over Oklahoma in the FedEx BCS Championship Game, the Florida Gators (13-1) were presented the 2008 Grantland Rice Trophy for the second time in three years by the Football Writers Association of America. FWAA president George Schroeder of the Eugene Register-Guard made the presentation at a morning news conference.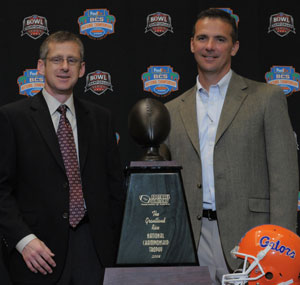 FWAA president George Schroeder presents the Grantland Rice Trophy to Florida coach Urban Meyer. (Photo: Alex Gort/Orange Bowl)
With the score tied, 14-14, quarterback Tim Tebow led the Gators on two fourth-quarter scoring drives culminating in a 27-yard field goal by Jonathan Phillips and the game-sealing touchdown pass to David Nelson with 3:07 remaining. Tebow, the championship game's Most Valuable Player, threw for 231 yards to go with 109 yards on the ground.
Percy Harvin chipped in 122 yards and a touchdown on the ground, while the Florida defense limited Oklahoma to season-low 14 points and stopped two first-half drives inside the 5-yard line.
The Grantland Rice Trophy has been presented by the Football Writers Association of America to college football's national champion since 1954. Named for the legendary sportswriter, the Grantland Rice Trophy was the first national championship award to be presented after the college football postseason.
This is the third time Florida has been awarded the FWAA national championship trophy and the third straight season a team from the Southeastern Conference has earned the award. The SEC also claimed three straight Grantland Rice trophies from 1978-80 (Alabama, 1978-79 and Georgia, 1980). In addition to their national title in 2006, the Gators won the FWAA's championship trophy in 1996.
A panel of veteran FWAA member writers selected the Gators as the FWAA's national champion. Although the FWAA does not conduct a final poll at the end of the season, it will conduct a 2009 preseason poll during this summer when the entire membership will vote. The poll will be released in late August before the beginning of the upcoming season.
The Football Writers Association of America, a non-profit organization founded in 1941, consists of nearly 1,000 men and women across North America who cover college football for a living. The membership includes journalists, broadcasters and publicists, as well as key executives in all the areas that involve the game. The FWAA works to govern areas that include game day operations, major awards, a national poll and its annual All-America team.
For more information on the Grantland Rice Trophy, contact FWAA executive director Steve Richardson (972-713-6198 or tiger@fwaa.com).
Related link:
• All-time Grantland Rice Trophy winners