CHARLOTTE, N.C. (FWAA) – Texas defensive end Brian Orakpo on Sunday night claimed the 2008 Bronko Nagurski Trophy, which annually is awarded to the best defensive player in college football.

Orakpo became the 16th winner of the award as voted upon by the Football Writers Association of America (FWAA) and sponsored by the Charlotte Touchdown Club. He is the second Texas player to win the award following linebacker Derrick Johnson in 2004.
"When you look at all the key plays made by all the other finalists for this award, it's a great honor to win this award," Orakpo said after being presented with the trophy at the banquet at the Westin Hotel.
"This has been a huge weekend for me. Yesterday, I graduated from Texas. And tonight, I won the Bronko Nagurski Trophy. I'd like to thank the FWAA and the Charlotte Touchdown Club. I've had to fight through a lot of injuries, so receiving this award is even more special."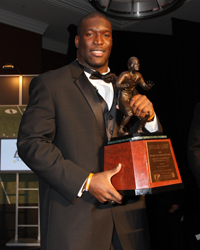 Brian Orakpo
(Photo: Ron Deshaies)
Orakpo, a 6-4, 260-pound senior from Houston, is considered a top NFL prospect and will receive his degree in Sports Management this month. He was a prep basketball star who didn't focus on football until his senior year at Lamar High School.
But he has developed into one of college football's strongest and best players while at Texas.
He entered Texas weighing 210 pounds, but 50 pounds later, he has only eight percent body fat. He squats 600 pounds, benches presses 515 pounds and power cleans 380. Orakpo has run a 4.6 40-yard dash and has registered a 42-inch vertical leap.
"He has such an unbelievable combination of strength and speed that he's really unblockable," Texas coach Mack Brown said of Orakpo. "As an offense, you have to account for him on every play or he'll just take over the game. Even when teams have tried to double team him or get him out of his game, he's such a smart, determined and gifted player that he's found a way to still have a big impact."
During Texas' four-game, mid-season stretch against ranked Big 12 teams – Oklahoma, Missouri, Oklahoma State and Texas Tech – Orakpo was simply sensational. He registered 16 tackles, three sacks, seven tackles for losses, nine pressures, a forced fumble and helped force an interception.
At the tail end of that stretch, Texas had defeated Oklahoma, Missouri and Oklahoma State, but Orakpo missed most of the second half of the Texas Tech loss with a knee injury.
"It really hurt us when he went down for the second half of the game against Texas Tech," Brown continued. "I have never been around a player who works any harder than 'Rak.' He never takes a play off in a practice or a game, is always in the weight room working to get bigger, stronger and faster, studies his film and prepares as well as anyone."
Orakpo's efforts certainly mirror the person for whom the trophy is named. The Bronko Nagurski Trophy is given in memory of the legendary Nagurski, a former All-American lineman at Minnesota (1927-29) and star for professional football's Chicago Bears in the 1930s.
The four other 2008 Nagurski Trophy finalists were TCU end Jerry Hughes, USC linebacker Rey Maualuga, Wake Forest cornerback Alphonso Smith and Florida linebacker Brandon Spikes.
The Charlotte Touchdown Club is a non-profit organization founded in 1990 for the purpose of promoting high school, collegiate, and professional football in the Charlotte, N.C. region. The club's activities and services focus community attention on the outstanding citizenship, scholarship, sportsmanship, and leadership of area athletes and coaches. For more information, contact John Rocco (704-347-2918 or jrocco@touchdownclub.com). The official website of the Charlotte Touchdown Club is www.touchdownclub.com.
The Football Writers Association of America, a non-profit organization founded in 1941, consists of nearly 1,000 men and women across North America who cover college football for a living. The membership includes journalists, broadcasters and publicists, as well as key executives in all the areas that involve the game. The FWAA works to govern areas that include gameday operations, major awards, a national poll and its annual All-America team.
For more information on the Bronko Nagurski Trophy and the FWAA, contact FWAA executive director Steve Richardson (972-713-6198 or tiger@fwaa.com).
Related link:
• Charlotte Touchdown Club