DALLAS (FWAA) – The Football Writers Association of America has announced the Watch List for the 2008 Bronko Nagurski Trophy, which is awarded to the best defensive player in college football and sponsored by the Charlotte Touchdown Club.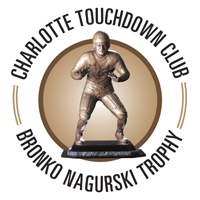 Included on the list is Ohio State senior linebacker James Laurinaitis, the 2006 Nagurski Trophy winner and a 2007 finalist, and South Florida junior defensive end George Selvie, another 2007 finalist.
The FWAA All-America Committee selects the Bronko Nagurski Trophy winner from the association's 11-man All-America defensive team in November. The watch list was developed by the FWAA All-America committee with the help of the schools and conferences.
The Charlotte Touchdown Club will hold the 2008 banquet on Sunday, Dec. 7, at the Westin Hotel in Charlotte. For the eighth straight season, the FWAA will also pick a Bronko Nagurski Defensive Player of the Week beginning with games on Aug. 30 and running through the middle of November. And a Bronko Nagurski Legends Award winner will also be selected from the FWAA's 1967 All-America team.
The Bronko Nagurski Trophy has been presented since 1993 and is awarded in memory of the legendary Nagurski, a former All-America lineman at Minnesota in 1927-29 and a star for professional football's Chicago Bears in the 1930s.
The 2007 Nagurski Trophy winner, LSU defensive tackle Glenn Dorsey, was selected No. 5 overall by the Kansas City Chiefs in the 2008 NFL Draft. The two other 2007 Nagurski finalists also fared well in the NFL Draft: Virginia end Chris Long went No. 2 overall to the St. Louis Rams and Kansas defensive back Aqib Talib was the No. 20 overall selection by the Tampa Bay Buccaneers.
2008 BRONKO NAGURSKI TROPHY PRESEASON WATCH LIST
Geno Atkins, DT, Georgia
Malcom Jenkins, DB, Ohio State
Antonio Baker, DB, Louisiana Tech
Peria Jerry, DT, Ole Miss
Darry Beckwith, MLB, LSU
Rashad Johnson, DB, Alabama
Ted Bentler,DL, Army
Arthur Jones, DT, Syracuse
Eric Berry, DB, Tennessee
Jan Jorgensen, DL, BYU
Dirayl Briggs, DE, Bowling Green
Frantz Joseph, LB, Florida Atlantic
Everette Brown,DL, Florida State
Mitch King, DT, Iowa
David Bruton, FS Notre Dame
James Laurinaitis, LB, Ohio State
Joe Burnett, DB, UCF
Trevard Lindley, CB, Kentucky
Terrill Byrd, DT, Cincinnati
Sen'Derrick Marks, DT, Auburn
Ian Campbell, DE, Kansas State
Rey Maualuga, LB, USC
Reggie Carter, LB UCLA
Taylor Mays, S, USC
Jamar Chaney, LB Mississippi State
Albert McClellan, DE, Marshall
Patrick Chung, DB, Oregon
Scott McKillop, LB, Pittsburgh
Barry Church, S, Toledo
Gerald McRath, LB, Southern Miss
Antonio Coleman, DE Auburn
Mike Mickens, CB, Cincinnati
Emanuel Cook, SS, South Carolina
Greg Middleton, DE, Indiana
Maurice Crum, LB, Notre Dame
Fili Moala, DT, USC
Jermaine Cunningham, DL, Florida
William Moore, S, Missouri
Aaron Curry, LB, Wake Forest
DJ Moore, CB, Vanderbilt
Brian Cushing, LB, USC
Joe Mortensen, LB, Kansas
Dexter Davis, DE, Arizona State
Clayton Mullins, LB, Miami (Ohio)
Vontae Davis, DB, Illinois
Captain Munnerlyn, DB, South Carolina
Wil Dunbar, FS, UAB
Andre Neblett, DT, Temple
Solomin Elimimian, LB, Hawaii
Troy Nolan, DB, Arizona State
Dannell Ellerbe, LB, Georgia
Eric Norwood, DE, South Carolina
Kevin Ellison, DB, USC
Vince Oghobaase, DT, Duke
Auston English, DE, Oklahoma
Jeff Owens, DT, Georgia
Larry English, DE, Northern Illinois
Derek Pegues, DB, Mississippi State
Maurice Evans, DE, Penn State
Dave Philistin, LB, Maryland
Zack Follett, LB, California
Nick Reed, DE, Oregon
Marcus Freeman, LB, Ohio State
Myron Rolle, DB, Florida State
Londen Fryar, DB, Western Michigan
George Selvie, DE, South Florida
John Gill, DT, Northwestern
Matt Shaughnessy, DE, Wisconsin
DeMarcus Granger, DT, Oklahoma
Clint Sintim, LB, Virginia
Courtney Greene, S, Rutgers
Alphonso Smith, DB, Wake Forest
Michael Hamlin, DB, Clemson
D'Anthony Smith, DT, Louisiana Tech
Greg Hardy, DE, Mississippi
Clinton Snyder, LB, Stanford
Nic Harris, DB, Oklahoma
Brandon Spikes, LB, Florida
Victor Harris, DB, Virginia Tech
Terrance Taylor, DT, Michigan
Daniel Holtzclaw, LB, Eastern Michigan
Brian Toal, LB, Boston College
Phillip Hunt, DE, Houston
Sean Weatherspoon, LB, Missouri
George Hypolite, DT, Colorado
Kyle Wilson, CB, Boise State
Tyson Jackson, DE, LSU
DeAndre Wright, DB, New Mexico
Players may be added or deleted from the list before or during the season
The Football Writers Association of America, a non-profit organization founded in 1941, consists of more than 900 men and women across North America who cover college football for a living. The membership includes journalists, broadcasters and publicists, as well as key executives in all the areas that involve the game. The FWAA works to govern areas that include gameday operations, major awards, a national poll and its annual All-America team.
The Charlotte Touchdown Club is a non-profit organization founded in 1990 for the purpose of promoting high school, collegiate, and professional football in the Charlotte, N.C. region. The club's activities and services focus community attention on the outstanding citizenship, scholarship, sportsmanship, and leadership of area athletes and coaches. For more information, contact John Rocco (704-347-2918 or jrocco@touchdownclub.com). The official website of the Charlotte Touchdown Club is www.touchdownclub.com.
For more information on the Bronko Nagurski Trophy, contact FWAA executive director Steve Richardson (972-713-6198 or tiger@fwaa.com).