FORT LAUDERDALE, Fla. (FWAA) – Award-winning journalist Tony Barnhart, a veteran of the reporting scene for 32 years, has been named the winner of the Football Writers Association of America's Bert McGrane Award for 2009.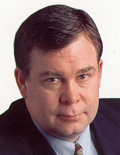 Tony Barnhart
The McGrane Award, symbolic of the association's Hall of Fame, is presented to an FWAA member who has performed great service to the organization and/or the writing profession. It is named after McGrane, a Des Moines, Iowa, writer who was the executive secretary of the FWAA from the early 1940s until 1973.
Barnhart , a long-time writer for the Atlanta Journal-Constitution, was president of the FWAA in 1998. He worked 24 years for the paper before becoming a free-lancer this past football season. He has continued to write his highly popular and informed "Mr. College Football" column for the newspaper's web site, ajc.com.
Barnhart is a locally and nationally known television and radio personality who has excelled in that part of the business for a number of years. He is a regular contributor to the "College Football Today" Show on CBS with Tim Brando and Spencer Tillman. He hosts weekly television and radio shows during the college football season.
A native of Union Point, Ga., Barnhart is a 1976 graduate of the Henry Grady School of Journalism at the University of Georgia. In 1999, Tony was named the Georgia Sportswriter of the Year and also has been honored for his work by the College Sports Information Directors of America (CoSIDA) and the All-America Football Foundation.
Barnhart has been nominated for two Southern Regional Emmy Awards. In 1996, he was nominated as the screenwriter of "The Southern Game," a documentary on Southern College Football. In 2007 his television show, "Talkin' Football," was also nominated for a Regional Emmy.
Tony is the author of three books: "Southern Fried Football," "What It Means to Be A Bulldog," and "Dooley: My 40 Years at Georgia." "Southern Fried Football," which was first released in 2000, was recently updated and re-released.
Barnhart will be honored this summer during the National Football Foundation's Hall of Fame induction weekend in South Bend, Ind., and his name will be placed in the College Football Hall of Fame's rotunda.
Tony lives in Atlanta with his wife, Maria. Their daughter, Sara Barnhart Fletcher, is a first-year associate with the Atlanta law firm of Smith, Gambrell & Russell. She is a 2008 graduate of the University of Georgia School of Law.
Related link:
• Bert McGrane Award