DALLAS (FWAA) – With their 36-28 win over Kansas, the Missouri Tigers (11-1) are the Tostitos Fiesta Bowl National Team of the Week for games of the weekend of Nov. 24.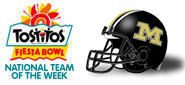 Chase Daniel completed 40-of-49 passes for 361 yards and three touchdowns as the Tigers won the Big 12's North Division.
With the win, the Tigers handed Kansas its first loss of the season and then earned the school's first No. 1 ranking since 1960.
"The best thing about tonight is the win," said Daniel. "The bottom line is, we got the win. I don't care what happens; I hope we are No. 1, but all of that stuff doesn't matter."
Other Tostitos Fiesta Bowl Bowl National Team of the Week nominees for the weekend of Nov. 24 included:
• Hawaii (11-0): Colt Brennan threw for 495 yards and five touchdown as the Warriors won their first outright WAC title with a 39-27 win over Boise State.

• West Virginia (10-1): Pat White rushed for 186 yards and two touchdowns and threw a touchdown pass in the Mountaineers' 66-21 rout of Connecticut.
The FWAA has named a national team of the week since the 2002 season. This is the third season that the award has been sponsored by the Tostitos Fiesta Bowl.
Select members of the FWAA board of directors decide the weekly honor. Each Monday during the 2007 college football season, the FWAA has named the Tostitos Bowl National Team of the Week. This is the final selection for the 2007 season.
Since 1971, the Tostitos Fiesta Bowl has hosted six games that have decided the college football national championship, including three Bowl Championship Series title games. Last season, the Tostitos Fiesta Bowl presented three post-season games, including the Insight Bowl and the BCS title game. This season the game will be played on Jan. 2, 2008 at University of Phoenix Stadium in Glendale, Ariz.
For more information on the Tostitos Fiesta Bowl National Team of the Week, go to www.footballwriters.com or www.fiestabowl.org.