DALLAS (FWAA) – With their 27-24 win over Purdue, the Indiana Hoosiers (7-5) are the Tostitos Fiesta Bowl National Team of the Week for games of the weekend of Nov. 17.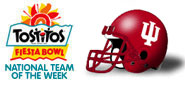 Austin Starr nailed a 49-yard field goal with 30 seconds left as the Hoosiers won the Old Oaken Bucket for just the second time in 11 seasons.
With the win, the Hoosiers are eligible for a bowl berth for the first time since 1993. Indiana was led by Marcus Thigpen, who ran for a career-high 140 yards in front of Indiana's first home sellout of the season. Among those in attendance was Jane Hoeppner, the wife of late Indiana coach Terry Hoeppner, who passed away before the season.
"Well, that was a great win for our kids," said head coach Bill Lynch. "That's a happy locker room in there right now and it's really fun to see those kids that way. You don't don't get that opportunity very often to see a locker room with kids in there crying because they are so doggone happy. That's a neat feeling."
Other Tostitos Fiesta Bowl Bowl National Team of the Week nominees for the weekend of Nov. 17 included:
• Louisiana-Monroe (5-6): The Warhawks forced four turnovers in upsetting Alabama, 21-14, for their first win over an SEC team since 1995.

• Western Michigan (4-7): Tim Hiller threw for 367 yards and three touchdowns as the Broncos stunned Iowa, 28-19, in Iowa City.
The FWAA has named a national team of the week since the 2002 season. This is the third season that the award has been sponsored by the Tostitos Fiesta Bowl.
Select members of the FWAA board of directors decide the weekly honor. Each Monday during the 2007 college football season, the FWAA will name the Tostitos Bowl National Team of the Week through Nov. 26.
Since 1971, the Tostitos Fiesta Bowl has hosted six games that have decided the college football national championship, including three Bowl Championship Series title games. Last season, the Tostitos Fiesta Bowl presented three post-season games, including the Insight Bowl and the BCS title game. This season the game will be played on Jan. 2, 2008 at University of Phoenix Stadium in Glendale, Ariz.
For more information on the Tostitos Fiesta Bowl National Team of the Week, go to www.footballwriters.com or www.fiestabowl.org.