DALLAS (FWAA) – With their 28-21 win at Ohio State, the Illinois Fighting Illini (8-3) are the Tostitos Fiesta Bowl National Team of the Week for games of the weekend of Nov. 10.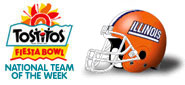 Juice Williams threw four touchdown passes as Illinois ended Ohio State's 28-game regular-season winning streak and a streak of 20 straight Big Ten wins.
Illinois, which is now 8-3 after finishing the 2006 season at 2-10, defeated a top-ranked team for the first time since 1956 and the first time ever on the road.
"I know 'shock the world' is overused," Illini linebacker J Leman said. "It is pretty shocking to most people, but not to the guys in the locker room."
Other Tostitos Fiesta Bowl Bowl National Team of the Week nominees for the weekend of Nov. 10 included:
• Nebraska (5-6): The Huskers rebounded from a 76-39 loss to Kansas by crushing Kansas State, 73-31.

• Virginia (9-2): The Cavaliers handed Miami its worst-ever home shutout loss, 48-0, in its final game at the Orange Bowl. It was also the first time Miami had been held scoreless at home since 1974.
The FWAA has named a national team of the week since the 2002 season. This is the third season that the award has been sponsored by the Tostitos Fiesta Bowl.
Select members of the FWAA board of directors decide the weekly honor. Each Monday during the 2007 college football season, the FWAA will name the Tostitos Bowl National Team of the Week through Nov. 26.
Since 1971, the Tostitos Fiesta Bowl has hosted six games that have decided the college football national championship, including three Bowl Championship Series title games. Last season, the Tostitos Fiesta Bowl presented three post-season games, including the Insight Bowl and the BCS title game. This season the game will be played on Jan. 2, 2008 at University of Phoenix Stadium in Glendale, Ariz.
For more information on the Tostitos Fiesta Bowl National Team of the Week, go to www.footballwriters.com or www.fiestabowl.org.