DALLAS (FWAA) – With their 46-44 overtime win at Notre Dame, the Navy Midshipmen (5-4) are the Tostitos Fiesta Bowl National Team of the Week for games of the weekend of Nov. 3.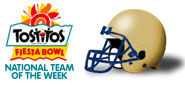 Kaipo-Noa Kaheaku-Enhada threw a 25-yard touchdown pass to Reggie Campbell on the first play of the third overtime possession, then found him again in the end zone for the 2-point conversion as Navy defeated Notre Dame for the first time since 1963.
The win ended an NCAA-record 43-game losing streak to Notre Dame, dating back to a 35-14 Navy win in '63.
Navy's Michael Walsh and Irv Spencer sealed the win when they tackled Notre Dame's Travis Thomas short of the goal line on the Fighting Irish's final play.
"Wow, what a game," Navy coach Paul Johnson said. "I'm so happy for our players. Now they will have that they are the class that broke the streak and they won't have to hear any more about it."
Other Tostitos Fiesta Bowl Bowl National Team of the Week nominees for the weekend of Nov. 3 included:
• Kansas (9-0): Todd Reesing threw six touchdown passes as the Jayhawks piled up the most points ever scored vs. Nebraska in a 76-39 rout.

• Oregon (8-1): Dennis Dixon threw five touchdown passes in the Ducks' 35-23 win over previously unbeaten Arizona State.
The FWAA has named a national team of the week since the 2002 season. This is the third season that the award has been sponsored by the Tostitos Fiesta Bowl.
Select members of the FWAA board of directors decide the weekly honor. Each Monday during the 2007 college football season, the FWAA will name the Tostitos Bowl National Team of the Week through Nov. 26.
Since 1971, the Tostitos Fiesta Bowl has hosted six games that have decided the college football national championship, including three Bowl Championship Series title games. Last season, the Tostitos Fiesta Bowl presented three post-season games, including the Insight Bowl and the BCS title game. This season the game will be played on Jan. 2, 2008 at University of Phoenix Stadium in Glendale, Ariz.
For more information on the Tostitos Fiesta Bowl National Team of the Week, go to www.footballwriters.com or www.fiestabowl.org.