DALLAS (FWAA) – With their 26-23 overtime win at Auburn, the USF Bulls (2-0) are the Tostitos Fiesta Bowl National Team of the Week for games of the weekend of Sept. 8.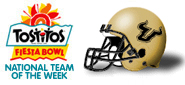 Jesse Hester Jr. caught a 14-yard touchdown pass from Matt Grothe in the extra session to finish off the upset as the Bulls improved to 6-0 all-time in overtime games. The win was also the first for USF over an SEC opponent.
"I am proud of the battling we did," head coach Jim Leavitt said after the game. "It was a big win for us."
Grothe completed 18-of-27 passes for 184 yards and Delbert Alvarado twice tied the game with fourth-quarter field goals, including an 18-yarder with 55 seconds left in regulation.
Other Tostitos Fiesta Bowl Bowl National Team of the Week nominees for the weekend of Sept. 8 included:
• South Carolina (2-0): The Gamecock defense held Georgia to 213 yards and Ryan Succop booted three field goals as South Carolina upset Georgia, 16-12, in Athens.

• Washington (2-0): Jake Locker threw for a touchdown and ran for another as the Huskies beat Boise State, 24-10, to end the nation's longest winning streak at 14. Washington is 2-0 for the first time in six years.
The FWAA has named a national team of the week since the 2002 season. This is the third season that the award has been sponsored by the Tostitos Fiesta Bowl.
Select members of the FWAA board of directors decide the weekly honor. Each Monday during the 2007 college football season, the FWAA will name the Tostitos Bowl National Team of the Week through Nov. 26.
Since 1971, the Tostitos Fiesta Bowl has hosted six games that have decided the college football national championship, including three Bowl Championship Series title games. Last season, the Tostitos Fiesta Bowl presented three post-season games, including the Insight Bowl and the BCS title game. This season the game will be played on Jan. 2, 2008 at University of Phoenix Stadium in Glendale, Ariz.
For more information on the Tostitos Fiesta Bowl National Team of the Week, go to www.footballwriters.com or www.fiestabowl.org.