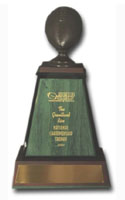 The Grantland
Rice Trophy
DALLAS (FWAA) – The USC Trojans are the top-ranked team in the Football Writers Association of America's preseason Grantland Rice Super 16 Poll. The Trojans easily outdistanced second-ranked LSU, picking up 109 of the 133 first-place votes cast. It's the third time in four years USC has been picked No. 1 by the FWAA in the preseason.
USC has won a record six Grantland Rice Trophies, including back-to-back national titles in 2003-04. The Trojans finished the 2006 season ranked No. 5 in the Grantland Rice Super 16. LSU starts 2007 where it finished a year ago. The Tigers were tied with Ohio State at No. 2 in last season's final rankings.
Including LSU, with its 17 first-place votes, six teams received first-place votes. No. 3 West Virginia had two, followed by No. 4 Michigan (1), No. 5 Texas (3) and defending Grantland Rice Trophy winner, No. 6 Florida (1). Rounding out the preseason top 10 are Wisconsin, Oklahoma, Virginia Tech and Louisville.
The Southeastern Conference leads all conferences with five ranked teams, including two of the top six. The Big Ten and Pac-10 each boast three teams, while the Big East and Big 12 each have two ranked teams. The ACC is the other conference represented in the poll with one team.
GRANTLAND RICE SUPER 16 POLL (PRESEASON)
Rank
School [1st]
Conference
W-L
Pts
Pvs
Opening Game
1.
USC [109]
Pacific-10
11-2
2,090
5
vs. Idaho
2.
LSU [17]
SEC
11-2
1,883
t2
at Mississippi State
3.
West Virginia [2]
Big East
11-2
1,622
t9
vs. Western Michigan
4.
Michigan [1]
Big Ten
11-2
1,602
t9
vs. Appalachian State
5.
Texas [3]
Big 12
10-3
1,565
14
vs. Arkansas State
6.
Florida [1]
SEC
13-1
1,376
1
vs. Western Kentucky
7.
Wisconsin
Big Ten
12-1
1,167
7
vs. Washington State
8.
Oklahoma
Big 12
11-3
1,157
12
vs. North Texas
9.
Virginia Tech
ACC
10-3
1,062
-
vs. East Carolina
10.
Louisville
Big East
12-1
950
6
vs. Murray State
11.
Ohio State
Big Ten
12-1
666
t2
vs. Youngstown State
12.
California
Pacific-10
10-3
551
13
vs. No. 16 Tennessee
13.
Georgia
SEC
9-4
424
-
vs. Oklahoma State
14.
Auburn
SEC
11-2
265
8
vs. Kansas State
15.
UCLA
Pacific-10
7-6
258
-
at Stanford
16.
Tennessee
SEC
9-4
210
-
at No. 12 California
Records and previous rankings are from the 2006 season
Also receiving votes: Rutgers 191, Florida State 183, Penn State 170, Arkansas 108, Nebraska 89, Hawaii 77, TCU 64, Boise State 48, Texas A&M 42, South Carolina 40, Alabama 38, Miami 33, Georgia Tech 28, Notre Dame 25, Boston College 22, Oregon 21, Oregon State 14, Missouri 11, Illinois 8, Oklahoma State 6, Arizona State 5, BYU 5, USF 4, Wake Forest 2, Clemson 1, Colorado 1, Iowa 1, Kentucky 1, Southern Miss 1, Purdue 1.
By conference: SEC 5, Big Ten 3, Pac-10 3, Big East 2, Big 12 2, ACC 1.
This season, the FWAA invited each of its members to take part in the preseason poll. Unlike each of the past five years, there will not be a weekly FWAA poll this year. For the past five seasons, the final Grantland Rice Super 16 Poll has determined the winner of the Grantland Rice Trophy, given to college football's national champion since 1954. The trophy, named in memory of the legendary sportswriter, was the first national championship awarded presented after college football's post-season.
In 2007, the Grantland Rice Trophy will be awarded after a vote of selected board members and past presidents of the association. It will be presented to the FWAA's national champion following the BCS Championship game in New Orleans.
The Football Writers Association of America, a non-profit organization founded in 1941, consists of more than 900 men and women across North America who cover college football for a living. The membership includes journalists, broadcasters and publicists, as well as key executives in all the areas that involve the game. The FWAA works to govern areas that include gameday operations, major awards, a national poll and its annual All-America team. For more information on the FWAA and its award programs, contact executive director Steve Richardson at 972-713-6198.