DALLAS (FWAA) – The Football Writers Association of America has announced the 2007 Outland Trophy Watch List. Forty-one standout linemen from around the country have been nominated for consideration in the preseason.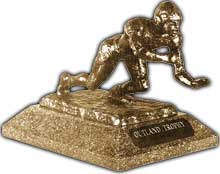 The Outland Trophy has been awarded to the best interior lineman in college football since 1946. The winner is selected by the FWAA's All-America Committee, which selects the association's 25-man All-America team and picks the three Outland Trophy finalists and the winner.
The 2007 Outland Trophy announcement will be on Dec. 6 in Orlando, Fla., on the ESPN Home Depot College Football Awards Show. The Outland Trophy presentation banquet, sponsored by the Greater Omaha Sports Committee, will be in January 2008 in Omaha, Neb.
The Outland Trophy has been awarded annually by the FWAA since 1946. It is named after the late John Outland, a lineman at Pennsylvania at the turn of the century. Wisconsin offensive tackle Joe Thomas won the 2006 Outland Trophy.
Nebraska has more Outland Trophy winners than another school. Seven Cornhuskers have claimed the trophy, with Nebraska center Dave Rimington being the only player to win it twice (in 1981 and '82).
Additional Outland Trophy candidates may be added during the course of the season. Tackles, guards and centers are eligible for consideration.
2007 OUTLAND TROPHY PRESEASON WATCH LIST
Player, School
Pos.
Cl.
Hometown
Jeff Akeroyd, Houston
OT
Sr.
Lubbock, Texas
Sete Aulai, BYU
C
Sr.
Carson, Calif.
Sam Baker, USC
OT
Sr.
Tustin, Calif.
Kirk Barton, Ohio State
OT
Sr.
Massillon, Ohio
Alex Boone, Ohio State
OT
Jr.
Lakewood, Ohio
Ryan Clady, Boise State
OT
Jr.
Rialto, Calif.
Robert Conley, Utah
G
Jr.
LaMarque, Texas
Kyle Cunningham, Louisiana-Monroe
OT
Sr.
Oklahoma City, Okla.
Dan Davis, Connecticut
DT
Sr.
Planfield, N.J.
Glenn Dorsey, LSU
DT
Sr.
Gonzales, La.
Franklin Dunbar, Middle Tennessee
OT
Jr.
Waycross, Ga.
Ryan Durand, Syracuse
G
Jr.
Leominster, Mass.
King Dunlap, Auburn
OT
Sr.
Brentwood, Tenn.
Sedrick Ellis, USC
DT
Sr.
Chino, Calif.
Andre Fluellen, Florida State
DT
Sr.
Cartersville, Ga.
Eric Foster, Rutgers
DT
Sr.
Homestead, Fla.
Adrian Grady, Louisville
DT
Jr.
Nichollsville, Ga.
Dallas Griffin, Texas
C
Sr.
Katy, Texas
Antron Harper, Navy
C
Sr.
Eastman, Ga.
Robby Heos, Rice
G
Sr.
Pearland, Texas
Tony Hills, Texas
OT
Sr.
Houston, Texas
Matt Hines, Nevada
DT
Sr.
Modesto, Calif.
Steve Justice, Wake Forest
C
Sr.
Port Orange, Fla.
Adam Kraus, Michigan
G
Sr.
New Orleans, La.
Robbie Krutilla, Western Michigan
C
Sr.
Summit, Ill.
Doug Legursky, Marshall
C
Sr.
Beckley, W.V.
Kory Lichtensteiger, Bowling Green
C
Sr.
Van Wert, Ohio
Matty Lindner, TCU
G
Sr.
Comfort, Texas
Derek Lokey, Texas
DT
Sr.
Denton, Texas
Jake Long, Michigan
OT
Sr.
Lapeer, Mich.
Jonathan Luigs, Arkansas
C
Jr.
Little Rock, Ark.
Alex Mack, California
C
Jr.
Santa Barbara, Calif.
Michael Oher, Ole Miss
OT
Jr.
Memphis, Tenn.
Frank Okam, Texas
DT
Sr.
Dallas, Texas
Jeremy Perry, Oregon State
G
Jr.
Hau'ula, Hawaii
Mike Pollak, Arizona State
C
Sr.
Tempe, Ariz.
Barry Richardson, Clemson
OT
Sr.
Mount Pleasant, S.C.
Matt Slauson, Nebraska
OT
Jr.
Colorado Springs, Colo.
Andre Smith, Alabama
OT
So.
Birmingham, Ala.
Pedro Sosa, Rutgers
OT
Sr.
Union City, N.J.
Ryan Stanchek, West Virginia
OT
Jr.
Cincinnati, Ohio
John Sullivan, Notre Dame
C
Sr.
Old Greenwich, Conn.
Cody Wallace, Texas A&M
C
Sr.
Cuero, Texas
Ryan Wendell, Fresno State
G
Sr.
Diamond Bar, Calif.
Chris Williams, Vanderbilt
OT
Sr.
Glynn, La.
Eric Wood, Louisville
C
Jr.
Cincinnati, Ohio
Jeremy Zuttah, Rutgers
OT
Sr.
Edison, N.J.
Tackles, guards and centers are eligible for consideration
Candidates may be added or removed during the season
The Football Writers Association of America, a non-profit organization founded in 1941, consists of more than 900 men and women across North America who cover college football for a living. The membership includes journalists, broadcasters and publicists, as well as key executives in all the areas that involve the game. The FWAA works to govern areas that include gameday operations, major awards, a national poll and its annual All-America team.
For more information on the Outland Trophy, go to the official website, www.outlandtrophy.com, or contact FWAA executive director Steve Richardson (972-713-6198 or tiger@fwaa.com).
2007 FWAA ALL-AMERICA COMMITTEE
Mark Blaudschun
Boston Globe
ACC
Chip Brown
The Dallas Morning News
Big 12
Bob Clark
Eugene Register-Guard
Pacific-10
Buddy Davis
Ruston Leader
WAC
Dennis Dodd
cbssports.com
MAC, Independents
Bob Holt
Arkansas Democrat-Gazette
SEC, Sun Belt
Steve Irvine
Birmingham News
Conference USA
Michael Lewis
Salt Lake Tribune
Mountain West
Matt Markey
Toledo Blade
Big Ten
Brett McMurphy
Tampa Tribune
Big East