GLENDALE, Ariz. (FWAA) – With their 41-14 win over Ohio State in the Tostitos BCS National Championship game, the Florida Gators (13-1) claimed the 2006 Grantland Rice Trophy as voted by the pollsters of the Grantland Rice Super 16 Poll. The Gators were presented with the trophy at a Tuesday news conference after earning all 16 first-place votes.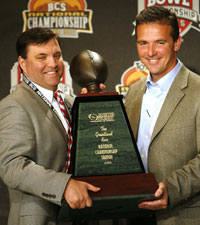 FWAA president Mike Griffith presents the Grantland Rice Trophy to Florida coach Urban Meyer.
The Gators held previously-unbeaten Ohio State, winners of the 2002 trophy, to 82 yards of total offense, eight first downs and just 19:12 of possession time in earning their second Grantland Rice Trophy.
Ohio State was the top-ranked team in the Super 16's preseason poll and was ranked No. 1 in each of the seven regular-season polls. The Buckeyes finished in a tie for No. 2 with LSU. Florida was ranked No. 8 to start the season by the FWAA pollsters. Boise State, the nation's lone unbeaten team, was ranked 4th in the final poll.
Overall, schools from the SEC have won nine Grantland Rice trophies. This is the first by an SEC school since Tennessee won the award in 1998. The SEC had four teams in the final Super 16 poll, the most of any conference. The Big East and Big Ten each had three ranked teams. Florida is also the third different school from the state of Florida to win the FWAA's national title since 1999 (Florida State, 1999; Miami, 2001).
The complete final 2006 poll is as follows:
FWAA GRANTLAND RICE SUPER 16 POLL (FINAL)
Rk.
School [1st]
Conference
W-L
Pts.
Pvs.
Bowl result
1.
Florida [16]
SEC
13-1
256
4
d. Ohio State, 41-14
t2.
LSU
SEC
11-2
220
t5
d. Notre Dame, 41-14
t2.
Ohio State
Big Ten
12-1
220
1
lost to Florida, 41-14
4.
Boise State
WAC
13-0
209
9
d. Oklahoma, 43-42
5.
USC
Pac-10
11-2
203
2
d. Michigan, 32-18
6.
Louisville
Big East
12-1
176
7
d. Wake Forest, 24-13
7.
Wisconsin
Big Ten
12-1
161
t5
d. Arkansas, 17-14
8.
Auburn
SEC
11-2
119
13
d. Nebraska, 17-14
t9.
Michigan
Big Ten
11-2
112
3
lost to USC, 32-18
t9.
West Virginia
Big East
11-2
112
14
d. Georgia Tech, 38-35
11.
Rutgers
Big East
11-2
92
11
d. Kansas State, 37-10
12.
Oklahoma
Big 12
11-3
69
10
lost to Boise State, 43-42
13.
California
Pac-10
10-3
49
-
d. Texas A&M, 45-10
14.
Texas
Big 12
10-3
48
-
d. Iowa, 26-24
15.
BYU
WAC
11-2
41
-
d. Oregon, 38-8
16.
Arkansas
SEC
10-4
38
8
lost to Wisconsin, 17-14
Also receiving votes: Notre Dame (10-3) 15, Wake Forest (11-3) 11, Virginia Tech (10-3) 8, Oregon State (10-4) 5, Boston College (10-3) 5, Hawaii (11-3) 4, TCU (11-2) 2, Georgia (9-4) 1.
Dropped out: Notre Dame (12), Virginia Tech (t15) Wake Forest (t15)
By conference: SEC (4), Big East (3), Big Ten (3), Big 12 (2), Pac-10 (2), WAC (2).
The Grantland Rice Trophy has been presented to the national champion in college football since 1954. Named in honor of the legendary sportswriter who passed away in 1954, the trophy was the first national championship award to be presented following college football's traditional post-season.
In addition to the poll, the 16 pollsters also decided the Tostitos Fiesta Bowl National Team of the Week. For the second straight season, the Tostitos Fiesta Bowl presented the weekly honor. Since 1971, the Tostitos Fiesta Bowl has hosted five games that have decided the college football national championship, including two Bowl Championship Series title games.
The Football Writers Association of America, a non-profit organization founded in 1941, consists of more than 900 men and women across North America who cover college football for a living. The membership includes journalists, broadcasters and publicists, as well as key executives in all the areas that involve the game. The FWAA works to govern areas that include gameday operations, major awards, a national poll and its annual All-America team.
All-time Grantland Rice Trophy winners from the SEC:
2006 Florida
1998 Tennessee
1996 Florida
1992 Alabama
1980 Georgia
1979 Alabama
1978 Alabama
1965 Alabama (share with Michigan State)
1960 Ole Miss
Related link:
• All-time Grantland Rice Trophy winners