DALLAS (FWAA) – The Ohio State Buckeyes have finished their regular season as the top-ranked team in the Grantland Rice Super 16 Poll. The Buckeyes, who held off Michigan 42-39 in the regular-season finale, received all 16 first place votes. Michigan, despite the loss, remained the No. 2 team in the poll as the top five remained the same with USC, Florida and Arkansas following the Wolverines.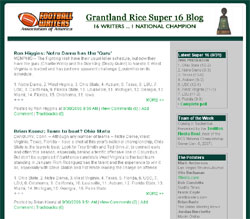 The FWAA debuts the Grantland Rice
Super 16 Blog. Check out how each pollster
voted and why at grantlandrice.com
Ohio State, a five-time winner of the Grantland Rice Trophy as the national champion as chosen by the FWAA, will play for the BCS national championship and the opportunity to win a sixth FWAA national title.
Saturday, No. 3 USC plays host to No. 6 Notre Dame in a game that could eventually decide who takes on Ohio State in the BCS National Championship on Jan. 8, 2007 in Glendale, Ariz. Friday, No. 5 Arkansas hosts No. 10 LSU in another pivotal battle involving ranked teams.
Wisconsin moved up to No. 8 and is the third Big Ten team in the poll, but it's the SEC that continues to set the pace with four ranked teams. In addition to Florida and Arkansas, LSU and Auburn are among the top 16. The Big East also continues to boast three teams in the FWAA poll (West Virginia, Louisville and Rutgers). Texas and Oklahoma give the Big 12 a pair of ranked teams as well. Boise State, at 11-0, is college football's only other unbeaten team and is 12th this week, up one spot.
Georgia Tech rejoined the rankings at No. 16, replacing Wake Forest, which is the only team to fall out this week.
The complete poll through games of Nov. 19 is as follows:
FWAA GRANTLAND RICE SUPER 16 POLL (NOV. 21)
Rk.
School [1st]
Conference
W-L
Pts.
Pvs.
Upcoming game
1.
Ohio State [16]
Big Ten
12-0
256
1
Regular season complete
2.
Michigan
Big Ten
11-1
232
2
Regular season complete
3.
USC
Pac-10
9-1
225
3
11/25 vs. No. 6 Notre Dame
4.
Florida
SEC
10-1
201
4
11/25 at Florida State
5.
Arkansas
SEC
10-1
194
5
11/24 vs. No. 10 LSU
6.
Notre Dame
Independent
10-1
159
7
11/25 at No. 3 USC
7.
West Virginia
Big East
9-1
139
8
11/25 vs. South Florida
8.
Wisconsin
Big Ten
11-1
136
11
Regular season complete
9.
Louisville
Big East
9-1
135
9
11/25 at Pittsburgh
10.
LSU
SEC
9-2
108
10
11/24 at No. 5 Arkansas
11.
Texas
Big 12
9-2
96
12
11/24 vs. Texas A&M
12.
Boise State
WAC
11-0
83
13
11/25 at Nevada
13.
Oklahoma
Big 12
9-2
59
15
11/25 at Oklahoma State
14.
Rutgers
Big East
9-1
55
6
11/25 vs. Syracuse
15.
Auburn
SEC
10-2
46
16
Regular season complete
16.
Georgia Tech
ACC
9-2
23
-
11/25 at Georgia
Also receiving votes: Boston College (9-2) 9, BYU (9-2) 7, Virginia Tech (9-2) 7, California (8-3) 4, Tennessee (8-3) 2.
Dropped out: Wake Forest (14).
By conference: SEC (4), Big East (3), Big Ten (3), Big 12 (2), ACC (1), Independents (1), Pac-10 (1), WAC (1).
The Grantland Rice Trophy has been presented to the national champion in college football since 1954. Named in honor of the legendary sportswriter who passed away in 1954, the trophy was the first national championship award to be presented following college football's traditional post-season.
In 2002, the FWAA introduced the Grantland Rice Super 16 Poll to determine the association's national champion. The 16 regionally-balanced voters will not present weekly rankings and will make their ballots public. For the first time, those ballots will be also posted online at grantlandrice.com, an interactive weblog.
In addition to the poll, the 16 pollsters also decide the Tostitos Fiesta Bowl National Team of the Week. For the second straight season, the Tostitos Fiesta Bowl will take part in presenting the weekly honor. Since 1971, the Tostitos Fiesta Bowl has hosted five games that have decided the college football national championship, including two Bowl Championship Series title games. The 2007 game will be played on Jan. 1. The Tostitos Fiesta Bowl, along with the Tostitos BCS Championship Game, moves to the new stadium in Glendale, Ariz., this season.
For more information on the Tostitos Fiesta Bowl National Team of the Week, go to footballwriters.com or fiestabowl.org.
The Football Writers Association of America, a non-profit organization founded in 1941, consists of more than 900 men and women across North America who cover college football for a living. The membership includes journalists, broadcasters and publicists, as well as key executives in all the areas that involve the game. The FWAA works to govern areas that include gameday operations, major awards, a national poll and its annual All-America team.