DALLAS (FWAA) – Texas offensive lineman Justin Blalock, West Virginia center Dan Mozes and Wisconsin offensive tackle Joe Thomas have been named finalists for the 61st Outland Trophy, which is awarded to the best interior lineman in college football.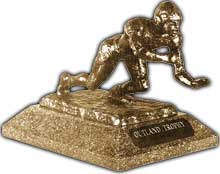 The winner of the Outland Trophy, as selected by the Football Writers Association of America, will be announced on Dec. 7 during the ESPN College Football Awards Show from the Walt Disney World Resort in Lake Buena Vista, Fla.
Blalock, who has played guard and tackle, will seek to become the fourth Longhorn to win the award, but the first in nearly 30 years. Previous Texas winners are Scott Appleton (1963), Tommy Nobis (1965) and Brad Shearer (1977).
West Virginia and Wisconsin have never produced an Outland Trophy winner in their football histories.
Wisconsin's Thomas, a 6-8, 306-pound from Brookfield, Wis., has appeared in 47 games, including 38 starts. He has overcome ACL knee surgery last January after filling in on the defensive line in the Capital One Bowl Game against Auburn. But this season he has been the mainstay for an offense which has produced the top freshman runner in college football, P.J. Hill., on a team which finished the regular season 11-1 and lost only to Michigan.
Blalock, at 6-4, 329-pound senior from Plano, Texas, hasn't allowed a sack in 26 games for Texas (9-2). He had started 44 straight games at right tackle, but was moved to right guard for the last five games because of an injury to another UT lineman. Of Texas' 22 rushing touchdowns this season, 16 have been behind Blalock, whose 49 straight starts match the school record of 1996 Outland Trophy finalist, Dan Neil.
Mozes, a 6-4, 290-pound senior from Washington, Pa., is a four-year starter, and anchors a Mountaineer offensive line which has paved the way for the Big East Conference's most prolific rusher, sophomore Steve Slaton. Mozes is one of the key movers on the line, and is a non-stop worker for a once-beaten West Virginia team, which ranks second in the country in rushing offense, total offense and scoring offense.
The Outland Trophy, which has been awarded by the FWAA since 1946, is named after the late John Outland, a lineman at Pennsylvania at the turn of the century. The Outland Trophy is the third oldest award in major college football behind the Heisman Trophy and Maxwell Award.
The official award presentation will be Jan. 11 in Omaha, Neb., at a banquet sponsored by the Omaha Sports Committee. Notre Dame's Bill Fischer, the third Outland Trophy winner in 1948, is expected to receive his trophy there as well.
The Football Writers Association of America, a non-profit organization founded in 1941, consists of more than 900 men and women across North America who cover college football for a living. The membership includes journalists, broadcasters and publicists, as well as key executives in all the areas that involve the game. The FWAA works to govern areas that include gameday operations, major awards, a national poll and its annual All-America team.
For more information on the Outland Trophy, go to the official website, www.outlandtrophy.com, or contact FWAA executive director Steve Richardson (972-713-6198 or tiger@fwaa.com).
2006 FWAA ALL-AMERICA COMMITTEE
Eric Bailey
Tulsa World
Conference USA
Chad Cripe
Idaho Statesman
WAC
Scott Ferrell
Shreveport Times
SEC, Sun Belt
Robert Gagliardi
Wyoming Tribune-Eagle
Mountain West
Eric Hansen
South Bend Tribune
MAC, Notre Dame
Tom Luicci
Newark Star-Ledger
Big East
Andrew Logue
Des Moines Register
Big Ten
Jeff Metcalfe
Arizona Republic
Pac-10
George Schroeder
Daily Oklahoman
Big 12
Norm Wood
Newport News Daily Press
ACC