DALLAS (FWAA) – The Football Writers Association of America has announced the 2006 Outland Trophy Watch List. Fifty-four standout linemen from around the country have been nominated for consideration in the preseason.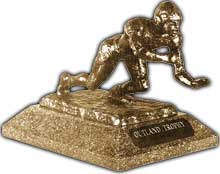 The Outland Trophy has been awarded to the best offensive or defensive lineman in college football since 1946. The winner is selected by the FWAA's All-America Committee, which selects the association's 25-man team and picks three Outland Trophy finalists.
The 2005 Outland Trophy announcement will be on Dec. 7 in Orlando, Fla., on the ESPN Home Depot College Football Awards Show. The Outland Trophy presentation banquet, sponsored by the Greater Omaha Sports Committee and First Data Corporation, is set for Jan. 11, 2007, in Omaha, Neb.
Minnesota center Greg Eslinger won the 2005 Outland Trophy. He was the third player from Minnesota to win the award after Tom Brown (1960) and Bobby Bell (1962). He is only the third center to claim major-college football's third-oldest award.
The Outland Trophy has been awarded annually by the FWAA since 1946. It is named after the late John Outland, a lineman at Pennsylvania at the turn of the century.
Nebraska has more Outland Trophy winners than another school. Seven Cornhuskers have claimed the trophy, with Nebraska center Dave Rimington being the only player to win it twice (in 1981 and '82).
Additional Outland Trophy candidates may be added during the course of the season. Tackles, guards and centers are eligible for consideration.
2006 OUTLAND TROPHY PRESEASON WATCH LIST
Player, School
Pos.
Cl.
Hometown
Will Arnold, LSU
G
Jr.
Gloster, Miss.
Sam Baker, USC
OT
Jr.
Tustin, Calif.
Kirk Barton, Ohio State
OT
Jr.
Massillon, Ohio
George Batiste, Southern Miss
OL
Sr.
Avondale, La.
Josh Beekman, Boston College
G
Sr.
Amsterdam, N.Y.
Justin Blalock, Texas
OT
Sr.
Plano, Texas
Conrad Bolston, Maryland
DT
Sr.
Burtonsville, Md.
Levi Brown, Penn State
OT
Sr.
Norfolk, Va.
Andrew Browning, Boise State
DT
Sr.
Lake Oswego, Ore.
Ryan Clady, Boise State
OT
So.
Rialto, Calif.
Brent Curvey, Iowa State
DL
Sr.
Houston, Texas
Brian Daniels, Colorado
OL
Sr.
Evergreen, Colo.
Tim Duckworth, Auburn
G
Sr.
Taylorsville, Miss.
Mark Fenton, Colorado
C
Sr.
Inglewood, Calif.
Doug Free, Northern Illinois
OT
Sr.
Manitowoc, Wis.
Roman Fry, Clemson
OL
Sr.
Ironton, Ohio
Howie Fuimaono, UNLV
DL
Sr.
Chula Vista, Calif.
Rhema Fuller, Connecticut
DT
Sr.
Cocoa, Fla.
Jared Gaither, Maryland
OT
So.
White Plains, Md.
Ryan Harris, Notre Dame
OL
Sr.
St. Paul, Minn.
Daniel Inman, Georgia
OT
Sr.
Hope Mills, N.C.
Tanner Jenkins, Arkansas State
C
Sr.
Baton Rouge, La.
Chase Johnson, Wyoming
OT
Sr.
Loveland, Colo.
Ryan Kalil, USC
C
Sr.
Corona, Calif.
Jake Kuresa, BYU
OL
Sr.
Millville, Utah
Jake Long, Michigan
OL
Sr.
Lapeer, Mich.
Enoka Lucas, Oregon
C
Sr.
Honolulu, Hawaii
Kurt Mann, Nebraska
OL
Sr.
Grand Island, Neb.
Brandon Mebane, California
DT
Sr.
Los Angeles, Calif.
Remel Meekins, Rutgers
DL
Sr.
Westwood, N.J.
Dan Mozes, West Virginia
OL
Sr.
Washington, Pa.
David Ochoa, Kansas
OL
Sr.
Houston, Texas
Jeff Perrett, Tulsa
OT
Sr.
Taber, Alberta
Jeremy Perry, Oregon State
OL
So.
Laie, Hawaii
Quinn Pitcock, Ohio State
DT
Sr.
Piqua, Ohio
Kurt Quarterman, Louisville
OL
Sr.
Albany, Ga.
Manuel Ramirez, Texas Tech
OL
Sr.
Sugarland, Texas
SirVincent Rogers, Houston
OL
Jr.
Jasper, Texas
Samson Satele, Hawaii
OL
Sr.
Kaneohe, Hawaii
Arron Sears, Tennessee
OT
Sr.
Russellville, Ala.
Jeremy Sheffey, West Virginia
G
Sr.
Catlettsburg, Ky.
Brian Stamper, Vanderbilt
OT
Sr.
Windermere, Fla.
Herbert Taylor, TCU
OT
Sr.
Houston, Texas
Shannon Tevaga, UCLA
G
Jr.
Paramount, Calif.
Joe Thomas, Wisconsin
OL
Sr.
Brookfield, Wis.
Marcus Thomas, Florida
DT
Sr.
Jacksonville, Fla.
Robert Turner, New Mexico
G
Sr.
Austin, Texas
Kelly Talavou, Utah
DL
Sr.
Santa Ana, Calif.
Tavo Tupola, Utah
OL
Sr.
Kahuku, Hawaii
Steve Vallos, Wake Forest
OT
Sr.
Boardman, Ohio
Greg Wafford, Kansas State
OL
Sr.
Lancaster, Texas
Theodric Watson, South Florida
OL
Sr.
St. Petersburg, Fla.
Eric Wood, Louisville
OL
So.
Cincinnati, Ohio
Kyle Young, Fresno State
C
Sr.
Fallbrook, Calif.
Tackles, guards and centers are eligible for consideration
Candidates may be added or deleted during the season
The Football Writers Association of America, a non-profit organization founded in 1941, consists of more than 900 men and women across North America who cover college football for a living. The membership includes journalists, broadcasters and publicists, as well as key executives in all the areas that involve the game. The FWAA works to govern areas that include gameday operations, major awards, a national poll and its annual All-America team.
For more information on the Outland Trophy, go to the official website, www.outlandtrophy.com, or contact FWAA executive director Steve Richardson (972-713-6198 or tiger@fwaa.com).
2006 FWAA ALL-AMERICA COMMITTEE
Eric Bailey
Tulsa World
Conference USA
Chad Cripe
Idaho Statesman
WAC
Scott Ferrell
Shreveport Times
SEC, Sun Belt
Robert Gagliardi
Wyoming Tribune-Eagle
Mountain West
Eric Hansen
South Bend Tribune
MAC, Notre Dame
Tom Luicci
Newark Star-Ledger
Big East
Andrew Logue
Des Moines Register
Big Ten
Jeff Metcalfe
Arizona Republic
Pac-10
George Schroeder
Daily Oklahoman
Big 12
Norm Wood
Newport News Daily Press
ACC