CHARLOTTE, N.C. (FWAA) – Ohio State linebacker James Laurinaitis on Monday night claimed the 2006 Bronko Nagurski Trophy, which annually is awarded to the best defensive player in college football.

Laurinaitis, nicknamed "Little Animal" in reference to his professional wrestling father, "The Animal," is the first sophomore to win the award, which is voted upon by the Football Writers Association of America and sponsored by the Charlotte Touchdown Club.
"It was an honor to be here," Laurinaitis said. "To be with this level of players, it's kind of surreal, me being the young guy. I was in high school when these guys were (already) in college; I definitely could not have done it without the entire defensive line and the whole defense."
The announcement was made Monday night at the annual awards banquet attended by more than 900 people at the Westin Hotel where Northwestern coach Pat Fitzgerald, the only two-time Bronko Award winner in 1995 and 1996, gave the main address.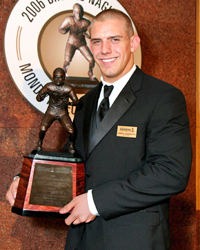 James Laurinaitis
Laurinaitis was the star defensive player on an Ohio State defense, which ranked second in the country in allowing just 10.4 points a game. He led the top-ranked an unbeaten Buckeyes (12-0) in total tackles (100).
"What I like about him is he is instinctive," said Fitzgerald, whose Wildcats played against the Buckeyes this season. "He has those things you like to see in a linebacker. He can run. He is very physical against blockers and at the point of attack. And he catches it extremely well. He had five interceptions. Those are the things which stand out to me."
Over the course of the season, Laurinaitis posted 8.5 tackles for 44 yards in losses, including four sacks for -40 yards. Playing more like a defensive back, he intercepted five passes and had 56 yards in returns. He broke up a pass and forced three fumbles.
Ohio State's defense didn't surprise, Laurinaitis.
"We knew more focus would be on our offense," he said. "Anybody who knew how many people we had lost on defense would be crazy not to think that. But within the organization, we thought we had the tools to replace those guys."
In Ohio State's early season showdown with defending national champion Texas in Austin, Laurinaitis was named the Bronko Nagurski Defensive Player of the Week when he made 13 tackles, forced two fumbles and made an interception in the Buckeyes' victory.
Early in a scoreless game, Texas drove to the Ohio State 7 where Laurinaitis forced a fumble, which was picked up by an Ohio State teammate and returned to mid-field. The Buckeyes scored five plays later to take a 7-0 lead. He also intercepted a pass early in the third quarter, which set up another Ohio State score.
"After the game, I didn't think about the individual stuff," Laurinaitis said. "I was more thrilled we had gone into a hostile environment and won a 1-2 matchup; I had a lucky interception. They threw it right to me. The defensive line had a great rush. And the ball just pops up (on the forced fumble)."
The award is given in memory of the legendary Nagurski, a former All-American lineman at Minnesota (1927-29) and star for professional football's Chicago Bears in the 1930s.
Other 2006 Bronko finalists were Mississippi linebacker Patrick Willis, Florida defensive back Reggie Nelson, Michigan defensive back Leon Hall and Clemson end Gaines Adams.
The Charlotte Touchdown Club is a non-profit organization founded in 1990 for the purpose of promoting high school, collegiate, and professional football in the Charlotte, N.C. region. The club's activities and services focus community attention on the outstanding citizenship, scholarship, sportsmanship, and leadership of area athletes and coaches. For more information, contact John Rocco (704-347-2918 or jrocco@touchdownclub.com). The official website of the Charlotte Touchdown Club is www.touchdownclub.com.
The Football Writers Association of America, a non-profit organization founded in 1941, consists of more than 900 men and women across North America who cover college football for a living. The membership includes journalists, broadcasters and publicists, as well as key executives in all the areas that involve the game. The FWAA works to govern areas that include gameday operations, major awards, a national poll and its annual All-America team.
For more information on the Bronko Nagurski Trophy and the FWAA, contact FWAA executive director Steve Richardson (972-713-6198 or tiger@fwaa.com).