LAKE BUENA VISTA, Fla. (FWAA) – The Football Writers Association of America's 63rd All-America Team was announced on Saturday afternoon and shown on ABC from the Atlantic Dance Hall on Disney's Boardwalk.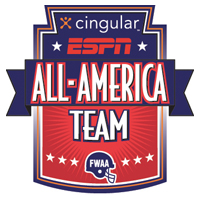 The FWAA team, the second longest continuously published team in college football, has been a staple of the college football scene since 1944. And, for the third straight season, the unveiling of the team has been shown on television during a program sponsored by Cingular.
Michigan, which lost only to top-ranked Ohio State this past season, placed three players on the 25-man team for the second time in three years. Ohio State, Texas, West Virginia and UCLA each had two players on the team. Defending national champion Texas last failed to have at least one player on the team in 1993.
Notre Dame's Jeff Samardzija, a wide receiver, is the only repeat All-America on the team. The squad also includes the Outland Trophy winner (best interior lineman), offensive tackle Joe Thomas of Wisconsin, and the Bronko Nagurski Trophy winner (FWAA's Defensive Player of the Year), Ohio State linebacker James Laurinaitis.
Michigan's trio of offensive lineman Jake Long, defensive back Leon Hall and defensive end LaMarr Woodley matched the total of two seasons ago when the Wolverines had three on the FWAA team.
Ohio State had two players on the team, Laurinaitis and quarterback Troy Smith; Texas placed two, defensive back Aaron Ross and offensive lineman Justin Blalock; West Virginia two, center Dan Mozes and running back Steve Slaton, and UCLA two, kicker Justin Medlock and defensive lineman Justin Hickman.
The Big Ten led all conferences with six players and the Southeastern, Big East, and Pac-10 had four each. The Big 12 had three, the Atlantic Coast Conference landed two and the Western Athletic Conference and Notre Dame one each.
Two standout players from losing teams made the team as a testimonial to their proficiency: Mississippi linebacker Patrick Willis and Baylor punter Daniel Sepulveda.
There are four sophomore on team, including both running backs, Arkansas' Darren McFadden and Slaton, Laurinaitis and California return specialist DeSean Jackson.
Also, during the program, 1957 All-American running back Jim Bakhtiar of Virginia, was presented with the FWAA All-America Alumni Award. A native of Tehran, Iran, Bakhtiar, at 72, continues his psychiatry practice in West Virginia. Previous Alumni Award recipients are Jerry LeVias of SMU and Tennessee's Reggie White.
2006 FWAA ALL-AMERICA TEAM
OFFENSE
Pos.
Player, School
Ht.
Wt.
Cl.
Hometown
QB
Troy Smith, Ohio State
6-1
215
Sr.
Cleveland, Ohio
RB
Darren McFadden, Arkansas
6-2
205
So.
Little Rock, Ark.
RB
Steve Slaton, West Virginia
5-10
195
So.
Levittown, Pa.
WR
Calvin Johnson, Georgia Tech
6-5
235
Jr.
Tyrone, Ga.
WR
Jeff Samardzija, Notre Dame
6-5
218
Sr.
Valparaiso, Ind.
WR
Robert Meachem, Tennessee
6-3
210
Jr.
Tulsa, Okla.
OL
Sam Baker, USC
6-5
305
Jr.
Tustin, Calif.
OL
Justin Blalock, Texas
6-4
329
Sr.
Plano, Texas
OL
Jake Long, Michigan
6-7
313
Sr.
Lapeer, Mich.
OL
Joe Thomas, Wisconsin
6-8
313
Sr.
Brookfield, Wis.
C
Dan Mozes, West Virginia
6-4
290
Sr.
Washington, Pa.
DEFENSE
Pos.
Player, School
Ht.
Wt.
Cl.
Hometown
DL
Gaines Adams, Clemson
6-5
260
Sr.
Greenwood, S.C.
DL
Eric Foster, Rutgers
6-2
260
Jr.
Homestead, Fla.
DL
Justin Hickman, UCLA
6-2
263
Sr.
Glendale, Ariz.
DL
LaMarr Woodley, Michigan
6-2
269
Sr.
Saginaw, Mich.
LB
H.B. Blades, Pittsburgh
6-0
240
Sr.
Plantation, Fla.
LB
James Laurinaitis, Ohio State
6-3
244
So.
Hamel, Minn.
LB
Patrick Willis, Mississippi
6-2
240
Sr.
Bruceton, Tenn.
DB
Leon Hall, Michigan
5-11
193
Sr.
Vista, Calif.
DB
Aaron Ross, Texas
6-1
192
Sr.
Tyler, Texas
DB
Reggie Nelson, Florida
6-1
193
Jr.
Melbourne, Fla.
DB
Dwight Lowery, San Jose State
6-1
185
Jr.
Santa Cruz, Calif.
SPECIALISTS
Pos.
Player, School
Ht.
Wt.
Cl.
Hometown
K
Justin Medlock, UCLA
6-0
197
Sr.
Fremont, Calif.
P
Daniel Sepulveda, Baylor
6-3
230
Sr.
Dallas, Texas
KR
DeSean Jackson, California
6-0
166
So.
Los Angeles, Calif.
First selected three years after the organization was formed, the FWAA's inaugural team included Army's Heisman Trophy tandem of Doc Blanchard and Glenn Davis and Georgia Tech's Frank Broyles, who later became Arkansas' head football coach and athletic director.
Over the years, the FWAA team has highlighted all the game's great players in several media forums.
From 1946-70, LOOK Magazine published the FWAA team and brought players and selected writers to New York City for a celebration. During that 25-year period, the FWAA team was introduced on national television shows by Bob Hope, Steve Allen, Perry Como and others.
After LOOK folded, the FWAA started a long association with NCAA Films (later known as NCAA Productions), which produced a 30-minute television show and sold it to sponsors. The team was part of ABC Television's 1981 College Football Series.
From 1983-90, the team was either on ABC or ESPN, and now has returned to the national spotlight on ABC.
For 63 years, the FWAA has selected an All-America team with the help of its members and an All-America Committee which represents all the regions in the country.
Some of the true greats of the writing profession have helped to select this team over the years: Grantland Rice, Bert McGrane, Blackie Sherrod, Furman Bisher, Pat Harmon, Fred Russell, Edwin Pope, Murray Olderman, Paul Zimmerman and the list goes on and on.
2006 FWAA ALL-AMERICA COMMITTEE
Eric Bailey
Tulsa World
Conference USA
Chad Cripe
Idaho Statesman
WAC
Scott Ferrell
Shreveport Times
SEC, Sun Belt
Robert Gagliardi
Wyoming Tribune-Eagle
Mountain West
Eric Hansen
South Bend Tribune
MAC, Notre Dame
Tom Luicci
Newark Star-Ledger
Big East
Andrew Logue
Des Moines Register
Big Ten
Jeff Metcalfe
Arizona Republic
Pac-10
George Schroeder
Daily Oklahoman
Big 12
Norm Wood
Newport News Daily Press
ACC