DALLAS (FWAA) – With their 14-10 win over Miami, the Georgia Tech Yellow Jackets are the Tostitos Fiesta Bowl National Team of the Week, as selected by the pollsters of the FWAA's Grantland Rice Super 16 Poll for games of the weekend of Nov. 19.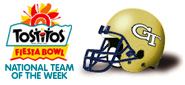 Tashard Choice and Reggie Ball each ran for touchdowns and the Georgia Tech defense recorded seven sacks and held the Hurricanes to 30 yards rushing, 237 total yards and 11 first downs in recording the upset.
"These guys have a tremendous ability to compartmentalize – put all the junk to the side and play the game," coach Chan Gailey said after the game. "All the other stuff they can't control. What we can control is what happened out there."
Other Tostitos Fiesta Bowl Bowl National Team of the Week nominees for the weekend of Nov. 19 included:
• Penn State (10-1): The Nittany Lions won the Big Ten title with a 31-22 win over Michigan State. The win gave coach Joe Paterno his 19th double-digit win season at the school.

• Vanderbilt (5-6): The Commodores beat Tennessee, 28-24, the first win over the Vols since 1982 and their first win at Neyland Stadium since 1975. Quarterback Jay Cutler threw for 315 yards and three touchdowns.
The FWAA has named a national team of the week since the 2002 season. This is the first season that the award has been sponsored by the Tostitos Fiesta Bowl.
The 16 pollsters of the Grantland Rice Super 16 Poll decide the weekly honor. Each Monday during the 2005 college football season, the FWAA will name the Tostitos Bowl National Team of the Week through Nov. 28.
The Grantland Rice Super 16 Poll will be released each Monday afternoon from Oct. 10 through Dec. 5 and then following the BCS championship game in the Rose Bowl. The top-ranked team in the final poll will be awarded the Grantland Rice Trophy as the FWAA's national champion. The FWAA has awarded the trophy each season since 1954. USC is the two-time defending FWAA national champion and was ranked No. 1 in the initial 2005 poll.
Since 1971, the Tostitos Fiesta Bowl and Tempe, Ariz., have hosted five games that have decided the college football national championship, including two Bowl Championship Series title games. The 2006 game will be played on Jan. 2 and will be the final game played at Sun Devil Stadium. The Tostitos Fiesta Bowl, along with the BCS Championship Game, will move to the new Multi-Purpose Stadium in Glendale, Ariz., beginning in 2007.
For more information on the Tostitos Fiesta Bowl National Team of the Week, go to www.footballwriters.com or www.tostitosfiestabowl.com.