DALLAS (FWAA) - With their 31-3 win over Florida, the Alabama Crimson Tide are the Tostitos Fiesta Bowl National Team of the Week, as selected by the pollsters of the FWAA's Grantland Rice Super 16 Poll for games of the weekend of Oct. 1.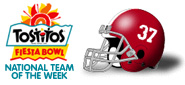 Brodie Croyle completed 14 of 17 passes for 283 yards and three scores, including an 88-yarder to Tyrone Prothro and a 65-yarder to Keith Brown.

It was Alabama's first-ever win over a Top 5 team in Tuscaloosa's Bryant-Denny Stadium. Florida came into the game ranked No. 5 in both the AP and coaches' polls. The win also improves the Tide to 5-0 for the first time since 1996.

"Every win is big. But to win games against ranked teams, most are ranked in SEC, is bigger because it's later in the season and we're undefeated," said Alabama coach Mike Shula after the game. "(Florida) is a talented football team. There were questions with how we would match up but we answered some of those questions today."

The other Tostitos Fiesta Bowl Bowl National Team of the Week nominee for the weekend of Oct. 1:
• Penn State (5-0): The Nittany Lions rans for 364 yards in a 44-14 rout of previously unbeaten Minnesota. It was the Penn State's first win over a ranked foe since 2002.
The FWAA has named a national team of the week since the 2002 season. This is the first season that the award has been sponsored by the Tostitos Fiesta Bowl.
The 16 pollsters of the Grantland Rice Super 16 Poll decide the weekly honor. Each Monday during the 2005 college football season, the FWAA will name the Tostitos Bowl National Team of the Week through Nov. 28.
The Grantland Rice Super 16 Poll will resume this season on Oct. 10. The top-ranked team in the final poll will be awarded the Grantland Rice Trophy as the FWAA's national champion. The FWAA has awarded the trophy each season since 1954. USC is the two-time defending FWAA national champion and is ranked No. 1 in the initial 2005 poll.
Since 1971, the Tostitos Fiesta Bowl and Tempe, Ariz., have hosted five games that have decided the college football national championship, including two Bowl Championship Series title games. The 2006 game will be played on Jan. 2 and will be the final game played at Sun Devil Stadium. The Tostitos Fiesta Bowl, along with the BCS Championship Game, will move to the new Multi-Purpose Stadium in Glendale, Ariz., beginning in 2007.
For more information on the Tostitos Fiesta Bowl National Team of the Week, go to www.footballwriters.com or www.tostitosfiestabowl.com.