PASADENA, Calif. – The Texas Longhorns (13-0) are the Football Writers Association of America's 2005 national champion after their dramatic 41-38 win over USC in the Rose Bowl. Texas coach Mack Brown was presented with the Grantland Rice Trophy by FWAA president Dennis Dodd at a news conference at the Beverly Hilton Hotel.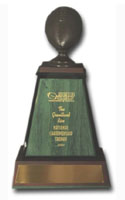 The Grantland
Rice Trophy
Texas finished atop the final Grantland Rice Super 16 Poll, receiving all 16 first-place votes from the FWAA pollsters. The Longhorns were No. 2 in the poll heading into the Rose Bowl.
The Longhorns, now winners of 20 straight games, snapped USC's 34-game winning streak to claim their first FWAA national title since 1969 and their third overall (1963). USC had won each of the last two Grantland Rice Trophies and has won six overall FWAA national titles, most of any school. No team has ever won three straight FWAA national titles. The Trojans were the top-ranked team in each of the regular-season 2005 regular-season Super 16 polls.
"One thing about the young guys who wore burnt orange last night, they'll be champions for the rest of their lives," Texas head coach Mark Brown told an overflow crowd at the news conference. "So few people even get in the ballgame as coaches or players and even fewer obviously win it. So for these guys, we're really, really excited because it is about the players."
While Texas was the lone Big 12 school to finish in the final Super 16, the SEC boasted five schools among the final ranked teams as Florida moved into the poll. The Big Ten and Pac-10 each had three teams in the poll. No other conference had more than one.
• Click here to see how and why each pollster voted
The complete final 2005 poll is as follows:
FWAA GRANTLAND RICE SUPER 16 POLL (FINAL)
Rk.
School [1st]
Conference
W-L
Pts.
Pvs.
Bowl Result
1.
Texas [16]
Big 12
13-0
256
2
def. USC, 41-38
2.
USC
Pacific-10
12-1
240
1
lost to Texas, 41-38
3.
Penn State
Big Ten
11-1
223
3
def. Florida State, 26-23
4.
Ohio State
Big Ten
10-2
207
4
def. Notre Dame, 34-20
5.
LSU
Southeastern
11-2
182
t10
def. Miami, 40-3
6.
West Virginia
Big East
11-1
166
12
def. Georgia, 38-35
7.
Virginia Tech
Atlantic Coast
11-2
163
t10
def. Louisville, 35-24
8.
Alabama
Southeastern
10-2
128
13
def. Texas Tech, 13-10
9.
Georgia
Southeastern
10-3
102
7
lost to West Virginia, 38-35
10.
Notre Dame
Independent
9-3
95
5
lost to Ohio State, 34-20
11.
TCU
Mountain West
11-1
84
14
def. Iowa State, 27-24
12.
Oregon
Pacific-10
10-2
71
6
lost to Oklahoma, 17-14
13.
Auburn
Southeastern
9-3
53
8
lost to Wisconsin, 24-10
t14.
Florida
Southeastern
9-3
50
-
def. Iowa, 31-24
t14.
Wisconsin
Big Ten
10-3
50
-
def. Auburn, 24-10
16.
UCLA
Pacific-10
10-2
47
t15
def. Northwestern, 50-38
Also receiving votes: Miami (9-3) 19, Oklahoma (8-4), 15, Florida State (8-5) 10, Boston College (9-3) 8, Texas Tech (9-3) 7.
Dropped out: Miami (9), Louisville (t15)
By conference: SEC 5, Big Ten 3, Pac-10 3, ACC 1, Big East 1, Big 12 1, Mountain West 1, Independent 1.
The FWAA has presented the Grantland Rice Trophy, named in honor of the legendary sportswriter, to college football's national champion each year since 1954. When introduced, it was the first national championship trophy to be awarded after college football's postseason. This is the fourth season that a season-long poll has been concurrent with the award.
For more information on the Grantland Rice Trophy and the FWAA's Grantland Rice Super 16 Poll, go to www.grantlandrice.com.