DALLAS (FWAA) – The Southern California Trojans are No. 1 in the FWAA's preseason Grantland Rice Super 16 Poll. USC, which won its second straight Grantland Rice Trophy after a 13-0 season a year ago, is picked to become the first-ever team to win three straight FWAA national titles. In the 50-year history of the Grantland Rice Trophy, USC is among only four schools to have won back-to-back FWAA national titles. USC won its record sixth FWAA national title in 2004.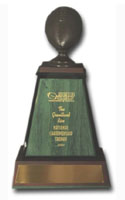 The Grantland
Rice Trophy
The Trojans, who blasted Oklahoma in the BCS championship game at the FedEx Orange Bowl to cap off their perfect 2004 season, received 14 of the 16 possible first-place votes. No. 2 Texas and No. 11 Iowa each received one of the other two. with 254 poll points, USC was within two points of being a unanimous choice as the preseason No. 1. Michigan, whom Texas nipped in the Rose Bowl last season, is third in the poll, followed by Tennessee and Ohio State. LSU, Miami, Virginia Tech, Oklahoma and Florida round out the Super 16's Top 10.
The Grantland Rice Super 16 Poll, introduced prior to the 2002 season, ranks the nation's top 16 Division I-A football teams. A regionally-balanced group of 16 selectors votes in the poll. The pollsters also select a Tostitos Fiesta Bowl National Team of the Week, which will be announced each Monday during the regular season. The first team of the week will be announced on Tuesday, Sept. 6, because of the extended weekend. The Grantland Rice Super 16 Poll, also released each Monday, will not resume until Mon., Oct. 10.
In addition, the 16 voters each cast a weekly ballot and give a brief synopsis of their ballot. Unlike other college football polls, the FWAA makes each of its pollster's ballot public, along with the weekly synopsis.
The Big Ten and SEC lead all conferences with four teams in the Super 16. Three teams from the ACC and Big 12 are also in the poll. The remaining teams in the initial poll are Iowa, Louisville, Purdue, Georgia, Florida State and Texas A&M.
• Click here to see how and why each pollster voted
GRANTLAND RICE SUPER 16 POLL (PRESEASON)
Rank
School [1st]
Conference
W-L
Pts
Pvs
Opening Game
1.
USC [14]
Pacific-10
13-0
254
1
9/3 at Hawaii
2.
Texas [1]
Big 12
11-1
218
5
9/3 vs. Louisiana-Lafayette
3.
Michigan
Big Ten
9-3
182
14
9/3 vs. Northern Illinois
4.
Tennessee
Southeastern
10-3
181
11
9/3 vs. UAB
5.
Ohio State
Big Ten
8-4
166
-
9/3 vs. Miami (Ohio)
6.
LSU
Southeastern
9-3
164
16
9/3 vs. North Texas
7.
Miami
Atlantic Coast
9-3
147
12
9/5 at No. 15 Florida State
8.
Virginia Tech
Atlantic Coast
10-3
145
9
9/4 at N.C. State
9.
Oklahoma
Big 12
12-1
128
3
9/3 vs. TCU
10.
Florida
Southeastern
7-5
116
-
9/3 vs. Wyoming
11.
Iowa [1]
Big Ten
10-2
113
8
9/3 vs. Ball State
12.
Louisville
Big East
11-1
103
6
9/3 at Kentucky
13.
Purdue
Big Ten
7-5
62
-
9/10 vs. Akron
14.
Georgia
Southeastern
10-2
48
7
9/3 vs. Boise State
15.
Florida State
Atlantic Coast
9-3
42
15
9/5 vs. No. 7 Miami
16.
Texas A&M
Big 12
7-5
38
-
9/3 at Clemson
Records and previous rankings are from the 2004 season
First-place votes: USC 14 (Bagnato, Burchette, Condotta, Curtis, Davis, Dodd, Fiutak, Greenstein, Griffith, Hartley, Hayes, Higgins, Koonz, Shain); Texas 1 (Coyle); Iowa 1 (Robbins).
Also receiving votes: Auburn 18, N.C. State 13, Pittsburgh 7, Boston College 6, Fresno State 6, Arizona State 4, California 4, Virginia 4, Alabama 3, Boise State 3, Texas Tech 1.
By conference: Big Ten 4, SEC 4, ACC 3, Big 12 3, Big East 1, Pac-10 1.
The Grantland Rice Trophy has been presented to the FWAA's national champion following each season since 1954. It was the first national championship trophy to be awarded after college football's post-season bowl games. The award is named in memory of the legendary sportswriter, who passed away in 1954. Since 2002, the final Grantland Rice Super 16 Poll has determined the winner. Prior to 2002, a select committee of FWAA members chose the association's national champion.
For further information contact Steve Richardson, Executive Director of the FWAA (972-713-6198, tiger@sportswriters.net) or Ted Gangi, FWAA webmaster (214-823-7992, webmaster@sportswriters.net).