DALLAS (FWAA) – The Football Writers Association of America has announced the 2005 Outland Trophy Watch List. Thirty-six standout linemen from around the country have been nominated for consideration in the preseason.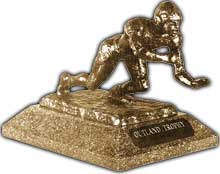 The Outland Trophy has been awarded to the best offensive or defensive lineman in college football since 1946. The winner is selected by the FWAA's All-America Committee, which selects the association's 25-man team and picks three Outland Trophy finalists.
The 2005 Outland Trophy announcement will be on Dec. 8 in Orlando, Fla., on the ESPN Home Depot College Football Awards Show. The Outland Trophy presentation banquet, sponsored by the Greater Omaha Sports Committee and First Data Corporation, is set for Jan. 12, 2006, in Omaha, Neb.
Oklahoma offensive tackle Jammal Brown won the 2004 Outland Trophy. Former Outland winner Ron Yary from USC (1967), will make the announcement of the 2005 winner in Orlando.
Additional Outland Trophy candidates may be added during the course of the season. Tackles, guards and centers are eligible for consideration.
2005 OUTLAND TROPHY PRESEASON WATCH LIST
Jesse Boone, OL, Utah
J. B. Closner, C, Alabama
Daryn Colledge, OT, Boise State
Ryan Cook, C, New Mexico
Mike Degory, C, Florida
Greg Eslinger, C, Minnesota
Steve Fifita, DL, Utah
D'Brickashaw Ferguson, OT, Virginia
Orien Harris, DT, Miami (Fla.)
Manase Hopoi, DT, Washington
T. J. Jackson, NG, Auburn
Max Jean-Gilles, OL, Georgia
Davin Joseph, G, Oklahoma
Jake Kuresa, OL, BYU
Travis Leffew, OL, Louisville
Matt Lentz, G, Michigan
Dylan Lineberry, G, North Texas
Josh Linehan, G, Oregon State
Grayling Love, OT, Arizona State
Jesse Mahelona, DT, Tennessee
Nick Mangold, C, Ohio State
Garrett McIntyre, DT, Fresno State
Marcus McNeill, OT, Auburn
Dan Mozes, G, West Virginia
Haloti Ngata, DT, Oregon
Ryan O'Callaghan, OT, California
Marvin Philip, C, California
Samson Satele, G, Hawaii
Jonathan Scott, OT, Texas
Mark Setterstrom, OL, Minnesota
Ben Siegert, DT, Oregon State
Gabe Watson, DT, Michigan
Andrew Whitworth, OT, LSU
Jon Wilson, C, Air Force
Eric Winston, OT, Miami (Fla.)
Rodrique Wright, DT, Texas
The Football Writers Association of America, a non-profit organization founded in 1941, consists of more than 900 men and women across North America who cover college football for a living. The membership includes journalists, broadcasters and publicists, as well as key executives in all the areas that involve the game. The FWAA works to govern areas that include gameday operations, major awards, a national poll and its annual All-America team.
For more information on the Outland Trophy, go to the official website, www.outlandtrophy.com, or contact FWAA executive director Steve Richardson (972-713-6198 or tiger@fwaa.com).