ORLANDO, FLA. (FWAA) – The Football Writers Association of America's 62nd All-America Team was announced on Saturday afternoon during a televised program on ABC Sports from Disney's MGM studios.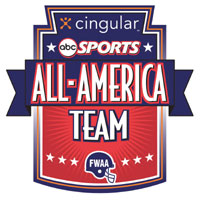 The FWAA All-America Team, the second longest continuously published team in college football, has been a staple of the college football scene since 1944. And for the second straight season, the unveiling of the team has been televised and sponsored by Cingular.
Top-ranked Southern California and second-ranked Texas, which will meet in the Rose Bowl in the national title game on Jan. 4, 2006, each placed three players on the 25-man team. Big Ten co-champion Penn State and UCLA each had two players selected.
There are two repeat All-Americas on the squad, Outland Trophy winner Greg Eslinger of Minnesota, who repeated at center from a year ago, and USC's Reggie Bush, who made the team as a sophomore kick returner last season, is one of the All-America running backs in 2005.
Bush is joined on the 2005 team by USC teammates, wide receiver Dwayne Jarrett and offensive lineman Taitusi Lutui. Texas' three All-Americas are quarterback Vince Young, offensive lineman Jonathan Scott and defensive back Michael Huff.
Penn State placed two players on the FWAA defensive team – linebacker Paul Posuluszny and end Tamba Hali. UCLA's All-Americans are tight end Marcedes Lewis and kick returner Maurice Drew. Louisville defensive end Elvis Dumervil made the team as the Bronko Nagurski Trophy winner (FWAA Defensive Player of the Year).
The Pac-10 led all conferences with seven players, the Big Ten had five players and the ACC and Big 12 four each.
2005 FWAA ALL-AMERICA TEAM
OFFENSE
Pos.
Player, School
Ht.
Wt.
Cl.
Hometown
QB
Vince Young, Texas
6-5
233
Jr.
Houston, Texas
RB
Reggie Bush, USC
6-0
200
Jr.
Spring Valley, Calif.
RB
Jerome Harrison, Washington State
5-10
199
Sr.
Kalamazoo, Mich.
WR
Dwayne Jarrett, USC
6-5
210
So.
New Brunswick, N.J.
WR
Jeff Samardzija, Notre Dame
6-5
216
Jr.
Valparaiso, Ind.
TE
Marcedes Lewis, UCLA
6-6
256
Sr.
Lakewood, Calif.
OL
Taitusi Lutui, USC
6-6
365
Sr.
Mesa, Ariz.
OL
Marcus McNeill, Auburn
6-9
338
Sr.
Decatur, Ga.
OL
Jonathan Scott, Texas
6-7
315
Sr.
Dallas, Texas
OL
Zach Strief, Northwestern
6-7
335
Sr.
Milford, Ohio
C
Greg Eslinger, Minnesota
6-3
285
Sr.
Bismarck, N.D.
DEFENSE
Pos.
Player, School
Ht.
Wt.
Cl.
Hometown
DL
Brodrick Bunkley, Florida State
6-3
284
Sr.
Tampa, Fla.
DL
Elvis Dumervil, Louisville
6-0
256
Sr.
Miami, Fla.
DL
Tamba Hali, Penn State
6-3
267
Sr.
Teaneck, N.J.
DL
Haloti Ngata, Oregon
6-5
338
Jr.
Salt Lake City, Utah
LB
A.J. Hawk, Ohio State
6-1
240
Sr.
Centerville, Ohio
LB
Paul Posluszny, Penn State
6-2
220
Jr.
Aliquippa, Pa.
LB
DeMeco Ryans, Alabama
6-2
232
Sr.
Bessemer, Ala.
DB
Michael Huff, Texas
6-1
205
Sr.
Irving, Texas
DB
Brandon Meriweather, Miami
6-0
188
Jr.
Apopka, Fla.
DB
Ko Simpson, South Carolina
6-1
201
So.
Rock Hill, S.C.
DB
Jimmy Williams, Virginia Tech
6-3
216
Sr.
Hampton, Va.
SPECIALISTS
Pos.
Player, School
Ht.
Wt.
Cl.
Hometown
K
Mason Crosby, Colorado
6-2
210
Jr.
Georgetown, Texas
P
Ryan Plackemeier, Wake Forest
6-3
235
Sr.
Bonsall, Calif.
KR
Maurice Drew, UCLA
5-8
205
Jr.
Antioch, Calif.
First selected three years after the organization was formed, the FWAA's inaugural team included Army's Heisman Trophy tandem of Doc Blanchard and Glenn Davis and Georgia Tech's Frank Broyles, who later became Arkansas' head football coach and athletic director.
Over the years, the FWAA team has highlighted the college football's great players in several media forums.
From 1946-70, LOOK Magazine published the FWAA team and brought players and selected writers to New York City for a celebration. During that 25-year period, the FWAA team was introduced on national television shows by Bob Hope, Steve Allen, Perry Como and others.
After LOOK folded, the FWAA started a long association with NCAA Films (later known as NCAA Productions), which produced a 30-minute television show. The team was part of ABC's 1981 college football series.
From 1983-90, the team was either on ABC or ESPN, and now has returned to the national spotlight on ABC.
The FWAA team has included most of the Heisman Trophy, Maxwell Award and Outland Trophy winners over the years. Those are the three oldest awards in major-college football.

This is the fourth year Florida Citrus Sports has held a gala celebration for the team in Orlando. The FCS brings all the members of the team to one spot to honor them with a banquet.
For 62 years, the FWAA has selected an All-America team with the help of its members and an All-America committee, which represents all the regions in the country.
Some of the true greats of the writing profession have helped to select this team over the years … Grantland Rice, Bert McGrane, Blackie Sherrod, Furman Bisher, Pat Harmon, Fred Russell, Edwin Pope, Murray Olderman, Paul Zimmerman and the list goes on and on.
For more information on the FWAA All-America Team and other FWAA awards, go to www.footballwriters.com.
2005 FWAA ALL-AMERICA COMMITTEE
Al Featherston
Freelance
Dave Jones
The Patriot News
Damien Pierce
Fort Worth Star-Telegram
Paul Gattis
The Huntsville Times
Brian Koonz
Danbury News-Times
Kalani Simpson
Honolulu Star-Bulletin
Tim Griffin
San Antonio Express-News
Ted Lewis
New Orleans Times-Picayune
Scott Wolf
Los Angeles Daily News