DALLAS (FWAA) – With their convincing 45-21 win over Kansas State this past Saturday, the Fresno State Bulldogs are the FedEx Orange Bowl National Team of the Week, as selected by the pollsters of the FWAA's Grantland Rice Super 16 Poll for games of the weekend of Sept. 11.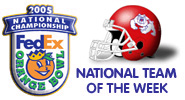 Fresno State (2-0) was led by quarterback Paul Pinegar, who threw two touchdown passes and ran for another as the Bulldogs handed Kansas State its worst regular-season non-conference loss in 13 years.
Dwayne Wright and Bryson Sumlin each ran for a pair of scores and the Bulldogs held K-State running back Darren Sproles to just 37 yards rushing on 11 carries.
"I've been here for 16 years," Kansas State coach Bill Snyder said. "We never had a football team that just got beat up as badly as we did today."
Other FedEx Orange Bowl National Team of the Week nominees for the weekend of Sept. 11 included:
• Notre Dame (1-1): Rallied from a 9-0 halftime deficit to beat Michigan, 28-20. Freshman Darius Walker ran for 115 yards and two fourth-quarter touchdowns to spark the Irish.

• Southern Miss (1-0): The Eagles converted four of five Nebraska turnovers into points and became the first non-conference opponent to beat Nebraska in Lincoln since 1991.

• Troy (2-0): A week after toppling Marshall, Jason Samples threw a touchdown pass and caught another as the Trojans, in their fourth season as a Division I-A program, beat a Big 12 team for the first time in school history.
The FWAA has named a national team of the week since the 2002 season. This is the first season that the award has been sponsored by the FedEx Orange Bowl.
The 16 pollsters of the Grantland Rice Super 16 Poll decide the weekly honor. Each Monday during the 2004 college football season, the FWAA will name the FedEx Orange Bowl National Team of the Week through Nov. 29. This season, FedEx Orange Bowl will match the two top-ranked teams in the final BCS standings. It will be played at Miami's Pro Player Stadium on Jan. 4, 2005.
The Grantland Rice Super 16 Poll will resume this season on Oct. 11. The top-ranked team in the final poll will be awarded the Grantland Rice Trophy as the FWAA's national champion. The FWAA has awarded the trophy each season since 1954. USC is the defending FWAA national champion and is ranked No. 1 in the initial 2004 poll.
For more information on the FedEx Orange Bowl National Team of the Week, go to www.footballwriters.com or www.orangebowl.org.