FORT LAUDERDALE, Fla. (FWAA) – The University of Southern California Trojans have successfully defended their national title by claiming their second straight Grantland Rice Trophy, completing a 13-0 season with a 55-19 win over Oklahoma in the FedEx Orange Bowl.
USC head coach Pete Carroll was presented the trophy on Wednesday at a morning news conference by FWAA president Alan Schmadtke of the Orlando Sentinel.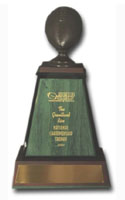 The Grantland
Rice Trophy
Heisman Trophy winner Matt Leinart of USC threw for 332 yards and an Orange Bowl-record five touchdown passes as the Trojans scored more points in the first half (38) than Oklahoma had ever allowed in a bowl game.
The Trojans, the unanimous choice of the 16 voters of the Football Writers Association of America's Grantland Rice Super 16 Poll, won their sixth FWAA national title. USC was the preseason No. 1 and was the top-ranked team in each poll this season, sharing the top spot with Oklahoma in the first rankings of the regular season.
Auburn, also unbeaten at 13-0, finished second in the final poll. The Tigers received each of the 16 second-place votes.
USC's six championships are the most in the 51-year history of the Rice trophy. Oklahoma has won five FWAA national titles and five other schools have won four apiece since 1954, when the trophy, named for the legendary sportswriter, was introduced.
USC is just the fourth school to win back-to-back Grantland Rice trophies, the last being Nebraska in 1994-95. Nebraska also claimed consecutive titles in 1970-71. Alabama (1978-79) and Oklahoma (1955-56) are the other two schools to win two in a row.
The Grantland Rice Super 16 Poll, introduced for the 2002 season, selects the nation's top 16 teams in polling that begins each October. Sixteen regionally-balanced pollsters select the nation's top teams in the FWAA poll. The Super 16 also distinguishes itself by making each pollster's ballot public.
In the three seasons of the FWAA poll, USC has finished no lower than third. The Trojans were No. 3 in the final 2002 poll and, of course, topped last season's final rankings. Seven other schools have finished in each of the three final Grantland Rice polls: Boise State, Georgia, Iowa, Miami, Michigan, Oklahoma and Texas.
Following is the final Grantland Rice Super 16 Poll for the 2004 season:
• Click here to see how and why each pollster voted
FINAL 2004 FWAA GRANTLAND RICE SUPER 16 POLL (JAN. 5, 2005)
Rk.
School [1st]
Conf.
W-L
Pts
Pvs
1.
USC [16]
Pacific-10
13-0
256
1
2.
Auburn
Southeastern
13-0
240
3
3.
Oklahoma
Big 12
12-1
215
2
4.
Utah
Mountain West
12-0
210
t4
5.
Texas
Big 12
11-1
198
6
6.
Louisville
Conference USA
11-1
167
7
7.
Georgia
Southeastern
10-2
146
9
8.
Iowa
Big Ten
10-2
128
12
9.
Virginia Tech
Atlantic Coast
10-3
116
8
10.
California
Pacific-10
10-2
97
t4
11.
Tennessee
Southeastern
10-3
93
15
12.
Miami
Atlantic Coast
9-3
86
14
13.
Boise State
Western Athletic
11-1
75
10
14.
Michigan
Big Ten
9-3
59
11
15.
Florida State
Atlantic Coast
9-3
39
16
16.
LSU
Southeastern
9-3
29
13
Also receiving votes: Texas Tech 8, Arizona State 7, Florida 3, Wisconsin 2, Ohio State 1, Texas A&M 1.
Dropped out: None.
By conference: SEC 4, ACC 3, Big Ten 2, Big 12 2, Pac-10 2, Conference USA 1, Mountain West 1, WAC 1.
Most Grantland Rice Trophies:
6, USC
5, Oklahoma
4, Alabama
4, Miami
4, Nebraska
4, Notre Dame
4, Ohio State
Back-to-back Grantland Rice Trophy winners
USC (2003-04)
Nebraska (1994-95)
Alabama (1978-79)
Nebraska (1970-71)
Oklahoma (1955-56)
For further information contact Steve Richardson, Executive Director of the FWAA (972-713-6198, tiger@sportswriters.net) or Ted Gangi, FWAA webmaster (214-823-7992, webmaster@sportswriters.net).